Your Site, Your Way!
1 component, 1 library, 7 modules, 78 plug-ins and 3 templates
In just one installation.
So much power & flexibility.. all for free!
SEBLOD 3.3
SEBLOD 3.3 is ready for both Joomla! 2.5 and Joomla! 3.2

You'll find new features such as "Computation Rules", "Friendly Multilanguage Management", "Multi-page Forms", improvements and optimizations.. which give SEBLOD limitless possibilities.

Make sure to backup your site before any install/update.
Introducing SEBLOD.
Take control of Joomla! with the most flexible extension ever made!
Advanced Forms & Content Types
Build complex forms for your web apps in order to fit the business needs.
Custom Fields & Flexible Plug-ins
Bring unlimited possibilities to your websites with a bunch of great plugins.
Multi-criteria Search & List Views
Build advanced search engines and lists in order to showcase all kind of data.
Out of the Box Applications
Install our ready-to-use apps in order to get started easily with SEBLOD.
(yet to come!)
Powerful Template Framework
Control the display and layouts of your SEBLOD-based content, forms & lists.
Well Integrated Multi-sites System
Set up a Joomla! multi-sites platform, without any hack.. in a few clicks.
Sites made with SEBLOD.
SEBLOD used by some of the biggest companies for its performance & flexibility.
General Electric
- InContext Editing (Front side)
- Digital Asset System (Media Manager)
- General Search on any Content Types
Peugeot Assurance
- Multi-page Forms
- Webservices Calls (SOAP)
- Security
Axa Assistance
- Multi-sites Platform
- Advanced Conditional States
- Advanced Computation Rules
French Government
- Multi-sites Platform
- Surveys & Polls
- SSO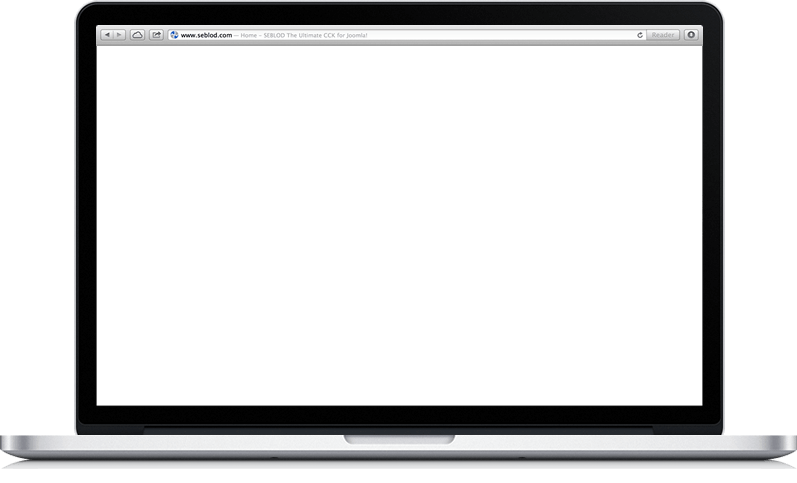 Do not think Drupal or Wordpress anymore!
Think Joomla + SEBLOD
& create the Web 3.0!
Joomla + SEBLOD = ALL the pieces of the puzzle!!
Joomla + SEBLOD = Computer + Internet
(The possibilities are endless!!!)
Understanding SEBLOD.
A Layer on top of Joomla!
Modify and extend core Joomla! objects like Article, Category, User, User Group or any other 3rd-party components.
Choose the fields and options YOU need for all of your front and back end forms.

Best of all it integrates seamlessly into Joomla, so no more hacky compromises!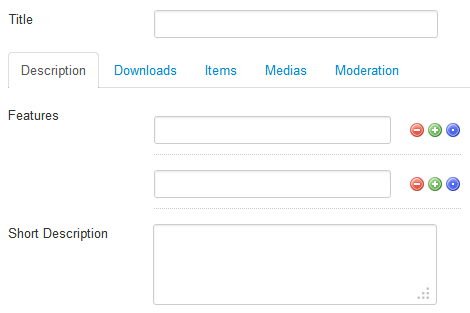 Advanced Content Construction Kit
Get started right away with a single component for all your needs.
Create new content types and forms with your own set of custom fields. Choose precisely which fields or options to display.
Build great interfaces perfectly tailored for clients and end users.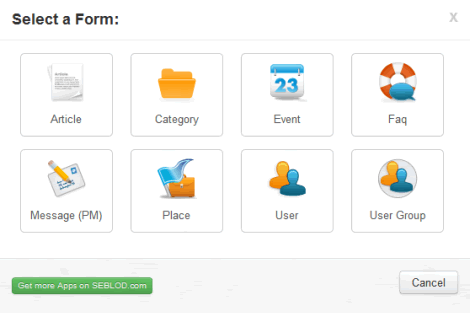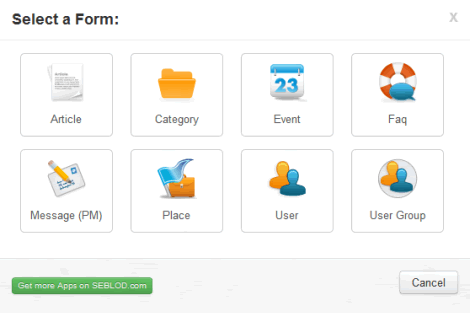 Drag and Drop Layout & Flexible Templating
While your clients and users focus on filling in forms, you have full control over the presentation of your content.
With just a few clicks create professional layouts and customize them exactly to your needs. Then display and reuse your content in multiple ways: blogs, charts, maps, tables..
Application Builder for Joomla!
Much more than just a CCK, SEBLOD is a real Application Builder.
Set up complex forms using computation rules, conditional states, processing, triggers, web services and more.
When you're done, package and reuse your work or share on seblod.com.