The Tracker app allows you to add and manage issue reports. Website users can use the "submit a report" form to report an issue, and then users with higher levels of access can manage that report using additional restricted fields.
Adding and updating an issue report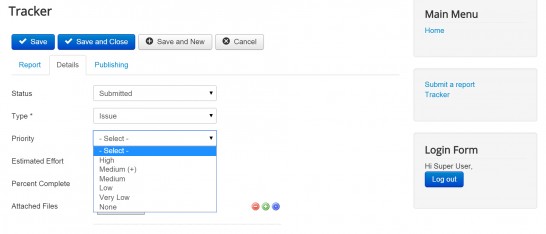 New issue reports can be added by registered users on your site through the "submit a report" menu item which was added in the Tracker App for SEBLOD menu on installation.
The "submit a report" form contains fields that are visible to registered users, and some fields that are restricted to the "Special" user access level. This allows for the separation of workflow between those who report issues, and those who address them.
The "Report" tab of the issue submission form has some basic text fields where you can give the issue a title, short description and full description.
The "Details" tab contains a mix of fields that are accessible by different user groups. The following fields are restricted to Special users only:
Tracker Status - Special
Tracker EPriority - Special
Tracker Estimated Effort - Special
Tracker Percent Complete - Special
Article Category ID - Special (Set automatically for registered user submissions)
Article State - Special
Article Access - Special
Article Language - Special
Article Alias - Special
Managing Issues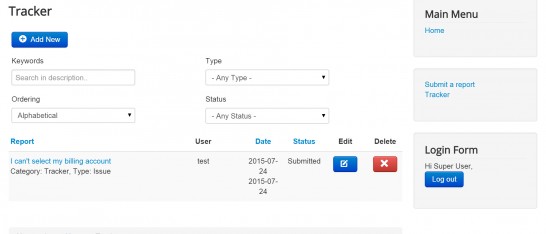 Submitted issues can be tracked using the Tracker Front-end List & Search Type. If you are logged in as a user with Special access permissions, then you will have the ability to edit and delete tracker items and update their information with the fields that are only available to users with Special permissions.