Introduction to Field Restrictions
Field restriction settings provide you with the control to determine when a field should be displayed or not. These settings are available using button [4] in each view. This manual teaches you about the different types of restrictions that are available for you to control when your fields should be shown and when they should be hidden.
Joomla ACL - Access Restrictions
SEBLOD Core comes with the Joomla ACL available on fields to determine which user groups should have access to see the field. These options are available in the "access" column of button [4] in any view.
Workflow Restrictions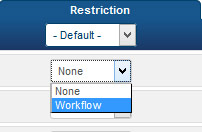 Workflow restrictions give you control over when to show a field depending on which stage of the Content Item submission / editing process you are at and also whether to display the field only in the front end, back end or both. If you select "Workflow" as your restriction, and click "+" you get some additional options to set up the restriction.
Location: This setting lets you define whether the field should be available only in the back-end, front-end or both.
Action: This setting lets you define the if you want the field to be displayed only when the Content Item is being submitted for the first time (Add), or when the Content Item is opened for editing (Edit), or Always for both.
Head to the SEBLOD marketplace to download more restriction plugins such as Language restrictions (hide or show fields based on the language selected), Mobile device restrictions, SEBLOD fields restrictions, and more.