Tidy organization is the basis of a good website. SEBLOD offers the ability to group your SEBLOD creations under "App Folders" and export and re-install the contents of these folders quickly and easily. In this presentation we'll see how to create an application using this folder system.

A typical application might be the contact form found on all websites. In general, there are very often the same fields:
name, email, subject and message.

Access Application Folder Manager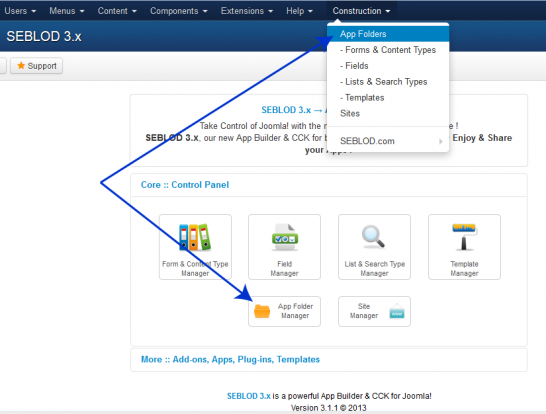 you can access the Application Manager in two main ways
Components > SEBLOD 3.x > App Folder Manager
or Construction > App folders
Create a new Application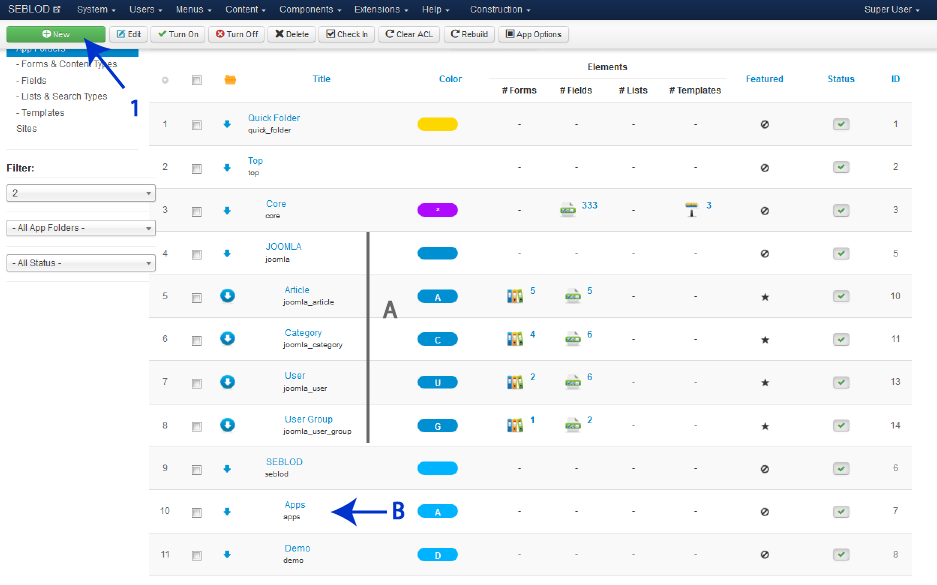 SEBLOD comes with a predefined applications folder tree with two main sections:
A - Joomla! Application
B - SEBLOD Application
You should store your custom applications in the "SEBLOD - Apps" section.
Now, click on the "New" button ( 1)
Application parameters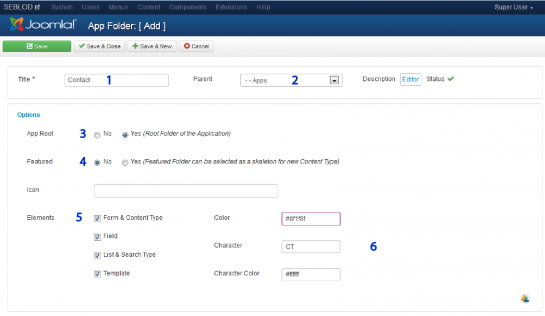 1 - The name of your App
2 - Choose the parent application
3 - This options say: "Yes your App is exportable"
4 - If "Yes", when you create a new Content Type, you can choose to construct it based on this app, so, Content Type views will be filled with all fields which are in this app.
5 - Determines which elements can be saved to the app folder
6 - Assigns a coloured badge and initials to help you identify elements that belong to your app folder in the Form / Content Type manager, the List / Search Type manager, the Fields manager and the Templates manager.
Don't forget to save.
And the result is...

You're now ready to create the
Contact Form
Eine aufgeräumte und organisierte Struktur ist die Basis einer guten Webseite. SEBLOD bietet die Möglichkeit zur Gruppierung Ihrer SEBLOD Entwicklungen im Bereich "App Ordner". Des weiteren haben Sie die Möglichkeit diese "Apps" zu exportieren und auf anderen Seiten zu installieren. In diesem Artikel sehen wir uns an, wie eine Application in der Ordnerverwaltung erstellt wird.
Eine typische Applikation kann zum Beispiel ein Kontaktformular sein, welches auf fast allen Webseiten eingesetzt wird. Meistens verwendet man geläufige Felder wie: Name, E-Mail, Betreff und Nachricht.
Zugriff auf die App-Verwaltung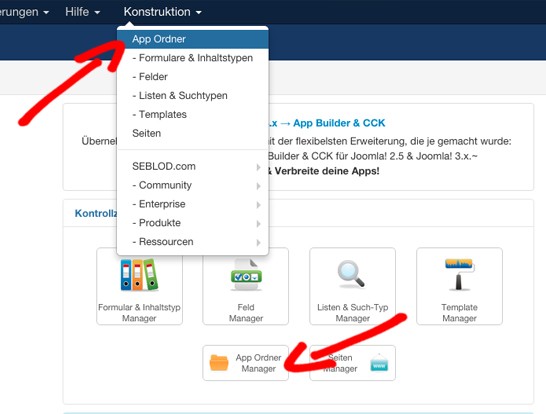 Sie können die App-Verwaltung auf zwei Wegen erreichen:
Komponenten > SEBLOD 3.x > App Ordner
oder Konstruktion > App Ordner
Erstellen Sie eine neue Applikation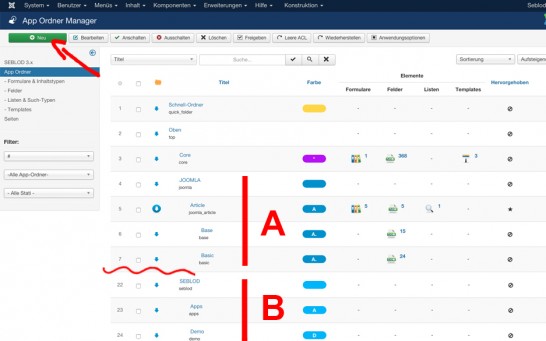 SEBLOD wird mit einer vorgefertigten Applikations-Ordner-Struktur ausgeliefert, die in zwei Hauptbereiche aufgeteilt ist:
A - Joomla! Applikationen
B - SEBLOD Applikationen
Ihre selbst erstellten Applikationen sollten Sie im Bereich "SEBLOD - Apps" ablegen.
Klicken Sie auf den "Neu" Button (1)
Applikations-Einstellungen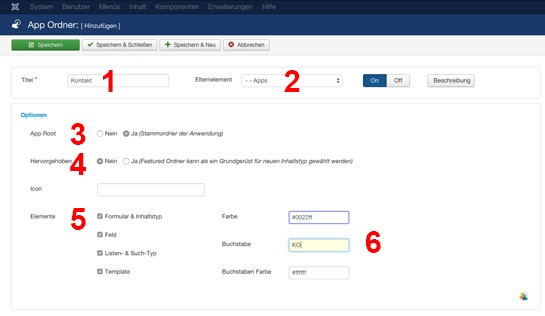 1 - Der Name Ihrer App
2 - Auswahl der übergeordneten Applikation
3 - Diese Option legt fest: "Ja, diese App lässt sich exportieren"
4 - Wenn hier "Ja" gewählt ist, können Sie später bei der Erstellung von einem neuen Content Typen auswählen, ob dieser mit Feldern dieser App vorgefüllt werden soll.
5 - Legt fest, welche Elemente im App-Ordner gespeichert werden.
6 - Hiermit können Sie Ihre App farblich und mit Initialen kennzeichnen. Dies hilft Ihnen, zueinander gehörige Elemente in der Verwaltung von Formular und Inhaltstypen, Listen und Suchtypen, Feldern sowie Templates zu erkennen.
Vergessen Sie nicht zu speichern.
Und das Ergebnis ist:

Nun können Sie ein Kontaktformular erstellen.
Une organisation méthodique est la base d'un bon site web. SEBLOD offre la possibilité de regrouper vos créations Seblod sous la rubrique "App Folders" et d'exporter et de ré-installer le contenu de ces dossiers rapidement et facilement. Dans cette présentation, nous allons voir comment créer une application utilisant ce système de dossier.
Une application typique pourrait être le formulaire de contact disponible sur tous les sites. En général, il y a très souvent les mêmes champs:
name, email, sujet et message.

Accès au gestionnaire des dossiers d'applications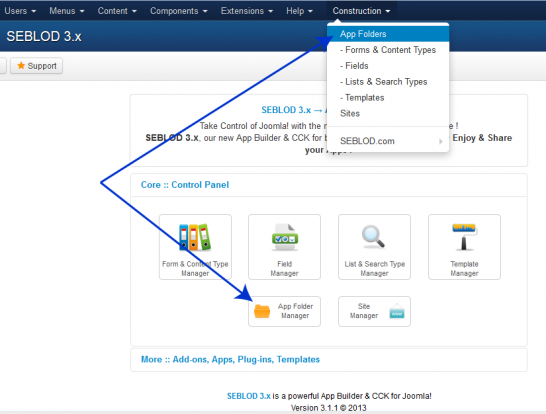 Vous pouvez accéder au gestionnaire d'applications de deux manières :
Components > SEBLOD 3.x > App Folder Manager
ou Construction > App folders
Créer une nouvelle application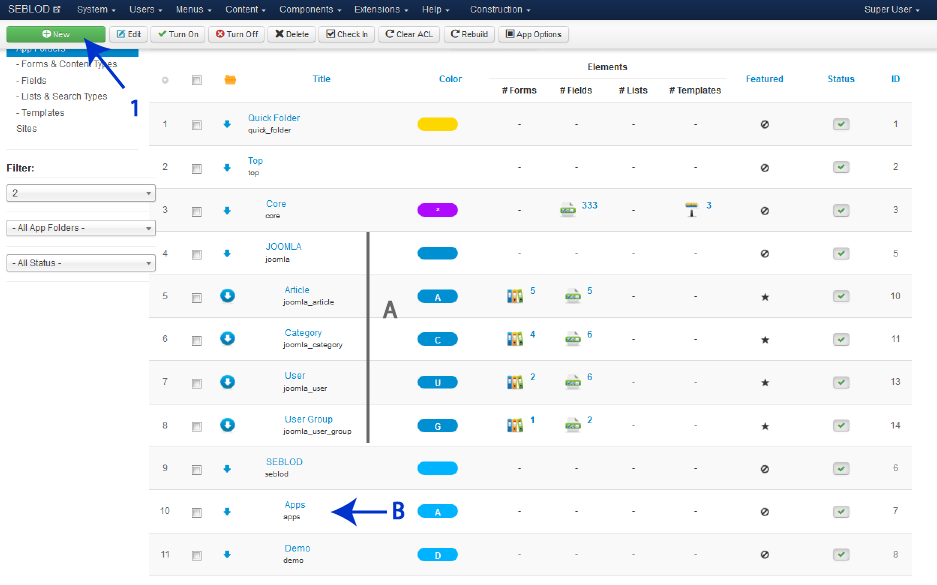 SEBLOD est livré avec une arborescence de répertoires d'applications prédéfini avec deux sections principales:
A - Joomla! Application
B - SEBLOD Application
Vous devez stocker vos applications personnalisées dans la section "SEBLOD - Apps".
Maintenant, cliquez sur le bouton "New" (1)
Paramètres d'applications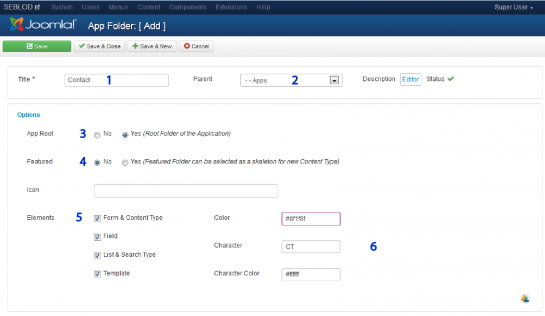 1 - Le nom de votre application
2 - Choisissez le parent de l'application
3 – L'option "Yes " indique que votre application est exportable
4 - Si vous sélectionnez "Yes", lorsque vous créez un nouveau type de contenu, vous pouvez choisir de le construire à partir de cette application, ainsi, les vues de type de contenu seront remplies avec tous les champs qui sont dans cette application.
5 - détermine quels éléments peuvent être enregistrés dans le dossier d'applications
6 - Affecte un badge de couleur et les initiales pour vous aider à identifier les éléments qui appartiennent à votre dossier d'application dans les gestionnaires "Form / Content Type", "List / Search Type", "Fields" et "Templates".

N'oubliez pas de sauvegarder.
Et le résultat est…

Vous êtes maintenant prêt pour créer le formulaire de contact