This tutorial shows you how to use SEBLOD's default lists to display a list of Joomla! Articles on your website in a blog layout.
By default, SEBLOD comes with 3 pre-made lists: articles, categories and users.

To display a list of SEBLOD articles, go to your menu and click "Add New Menu Item".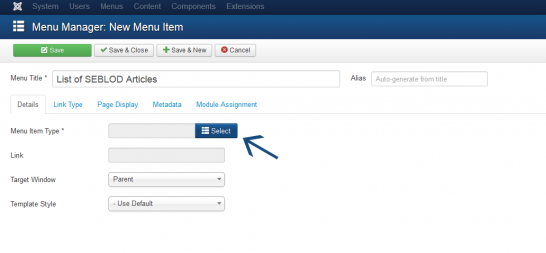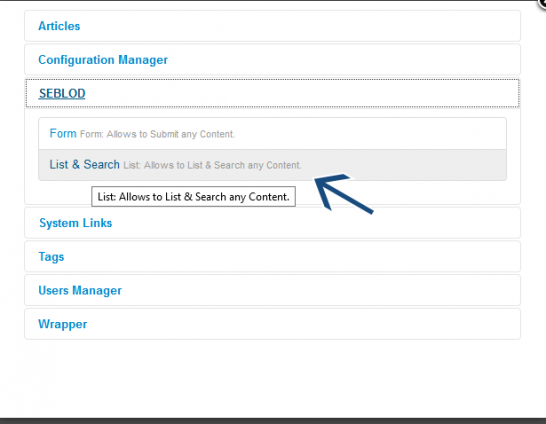 For the Menu Item Type, click "Select" and choose SEBLOD -> List & Search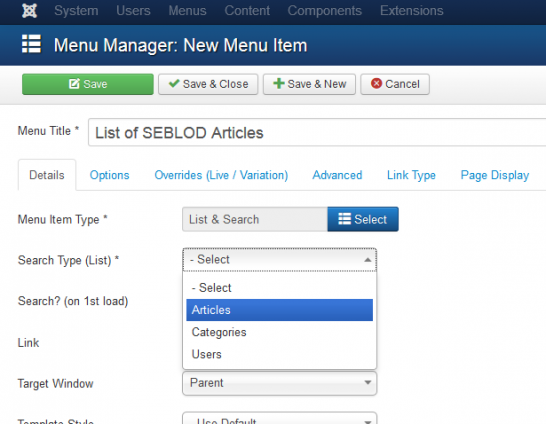 From the Search Type (List) selection box, select "Articles"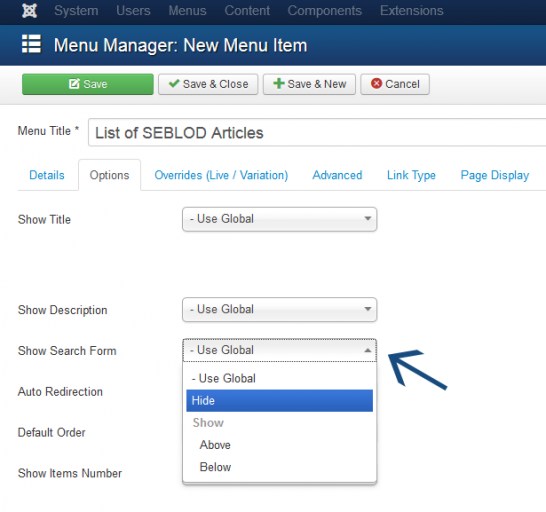 In the Options tab, make sure "Show Search Form" is set to "Hide"
Click Save
Now all of your articles will display in a list on your list page in the front end of your website. Try adding a new article using SEBLOD and watch it appear automatically when you click refresh!
In diesem Tutorial zeigen wir Ihnen wie Sie die Standard SEBLOD Listen nutzen können, um eine Liste von Joomla! Artikeln in einem Blog Layout anzuzeigen.
Standardmäßig hat SEBLOD 3 vorgefertigte Listen: Artikel, Kategorien und Benutzer.

Um eine Liste mit SEBLOD Artikeln anzuzeigen, gehen Sie in Ihr gewünschtes Menü und anschließend auf "Neuer Menüeintrag".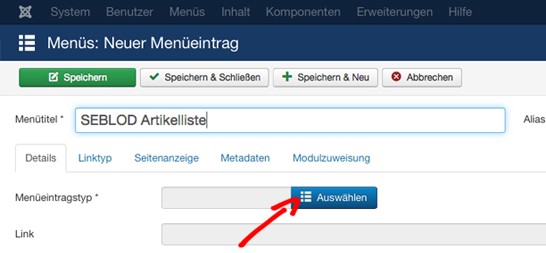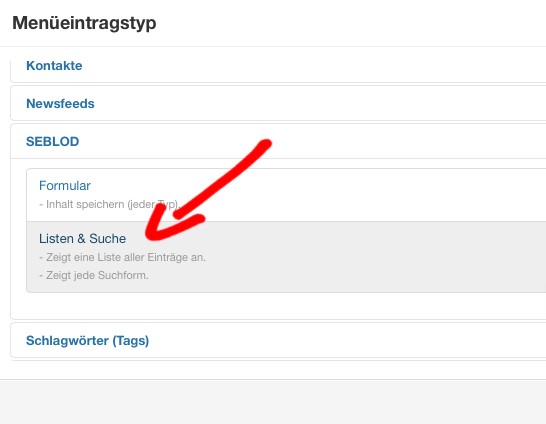 Beim Menüeintragstyp klicken Sie auf "Auswählen" und wählen Sie anschließend SEBLOD -> Listen und Suche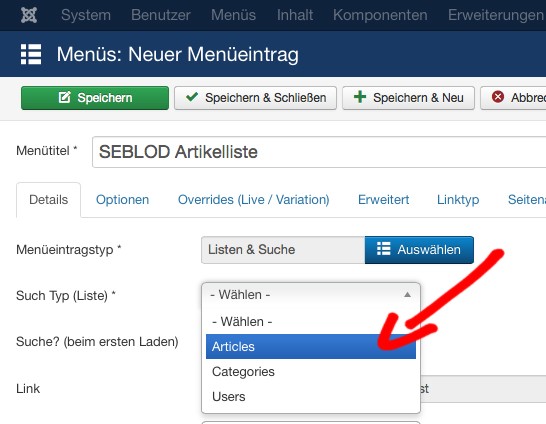 Beim Such Typ (Liste) wählen Sie "Articles" aus dem Dropdown.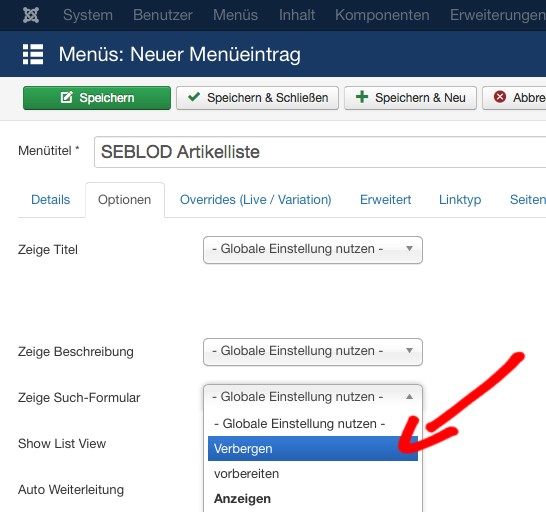 Im Tab "Optionen" stellen Sie sicher, dass die Einstellung "Zeige Such-Formular" auf "Verbergen" steht.
Klicken Sie auf speichern
Nun werden alle Ihre Artikel in einer Liste auf Ihrer Seite im Frontend angezeigt. Fügen Sie doch einen neuen Artikel hinzu und sehen Sie wie dieser automatisch in dieser Liste erscheint, wenn Sie die Seite neu laden.
Ce tutoriel vous montre comment utiliser une liste par défaut SEBLOD pour afficher une liste d'articles Joomla! sur votre site web dans une mise en page de blog.
Par défaut, SEBLOD s'ouvre avec 3 listes prédéfinies : articles, catégories et utilisateurs.

Pour afficher une liste d'articles SEBLOD, allez dans votre menu et cliquez sur "Add New Menu Item".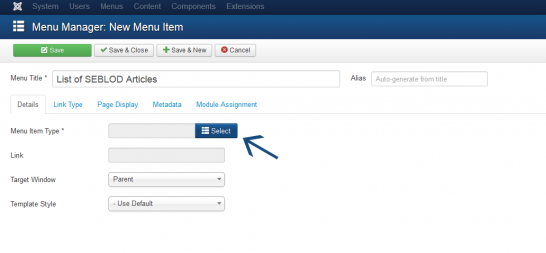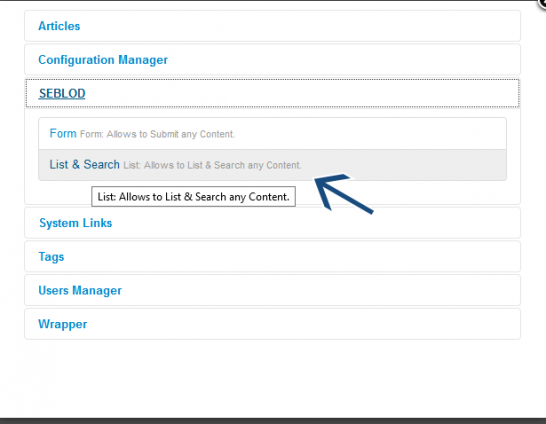 Pour le type d'éléments de menu, cliquez sur "Select" et choisissez SEBLOD -> "List & Search"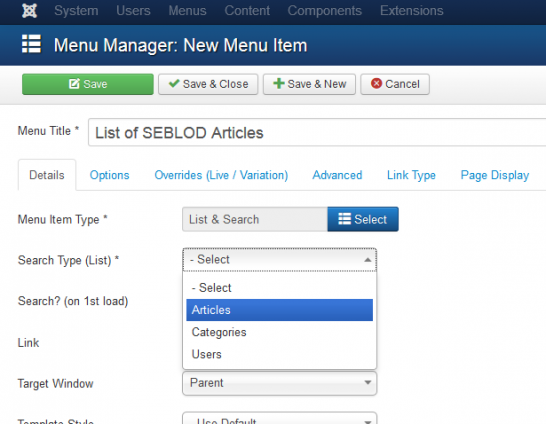 Depuis la boîte de sélection de recherche (List), sélectionnez "Articles".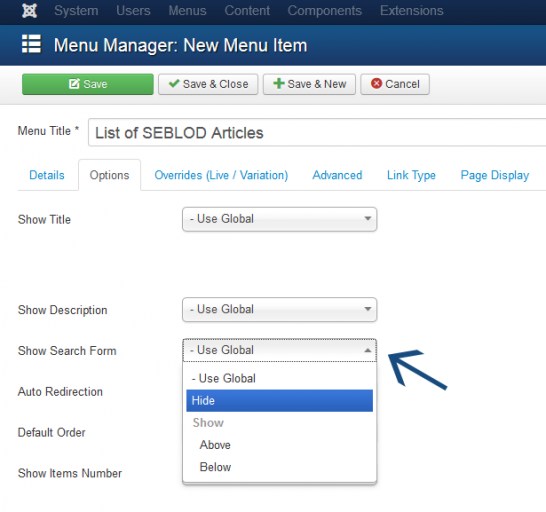 Dans l'onglet "Options", assurez-vous que "Show Search Form" est réglé sur "Hide".
Maintenant, tous vos articles vont être affichés sur une liste de votre page de listes du côté site ("front-end"). Essayez d'ajouter un nouvel article en utilisant SEBLOD et regardez-le apparaitre automatiquement quand vous cliquez sur actualiser !