You want to allow your users to be free to add articles in the front end of your website. In this presentation, we will create our first Joomla! menu item link to article form with SEBLOD.
Article site form
In the presentation
Adding a Joomla! Article
, we have seen how to use an Article SEBLOD form in the Joomla! backend. SEBLOD also has a view "Site form" which allows you to submit content through the front end of your website: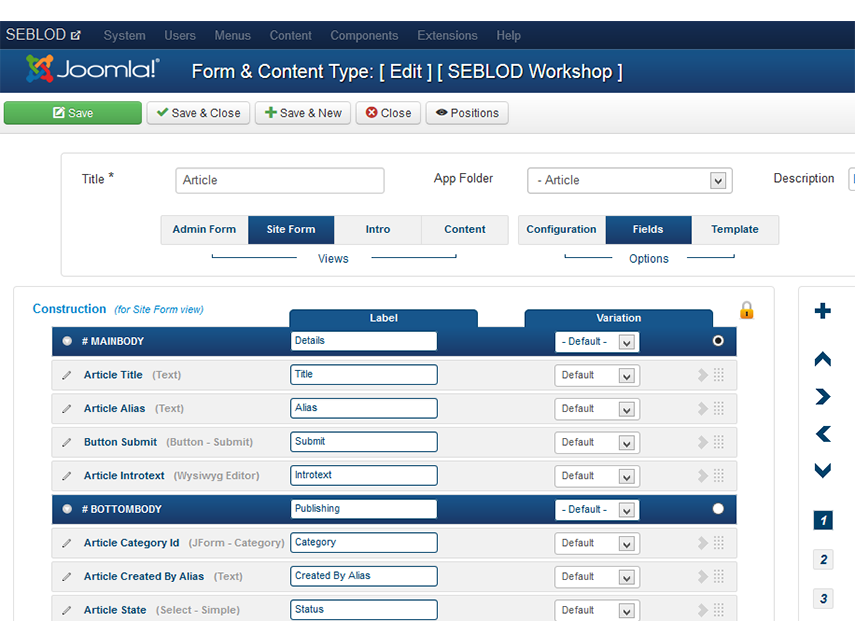 Article site form Permissions
IMPORTANT: The first action to do before publishing the form is to set permissions.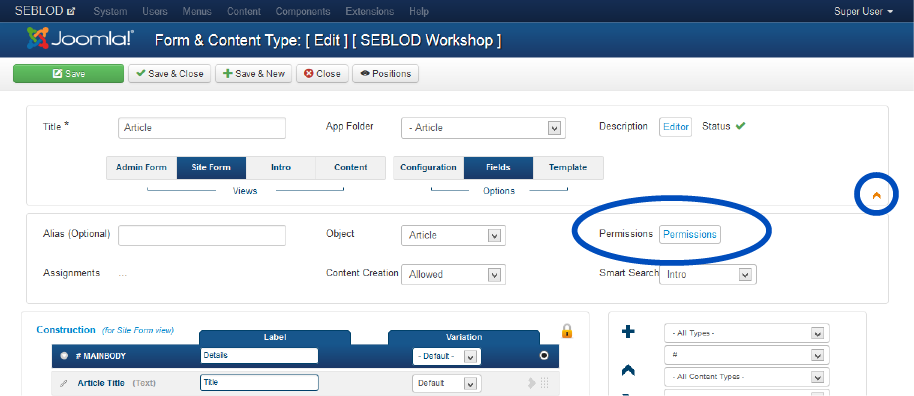 Determine the permissions for each desired user groups.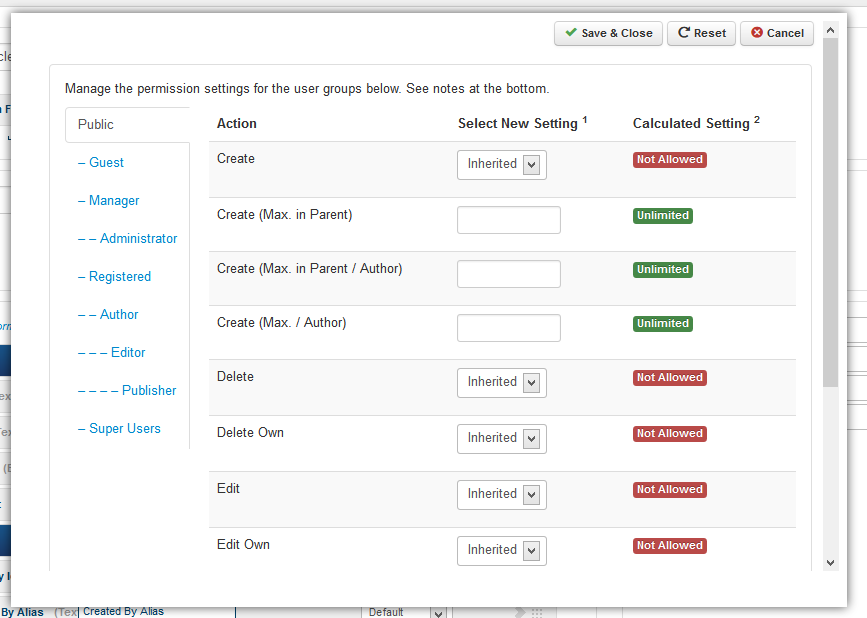 If you want a group of users to be able to submit content, you need to set the permissions for "Create" to "Allowed" for that group. Normally this permission should only be allowed to Registered and other groups that require authentication.
Adding a Menu Item
In the Joomla! Menu Manager, you have to add a new Item
SEBLOD / Form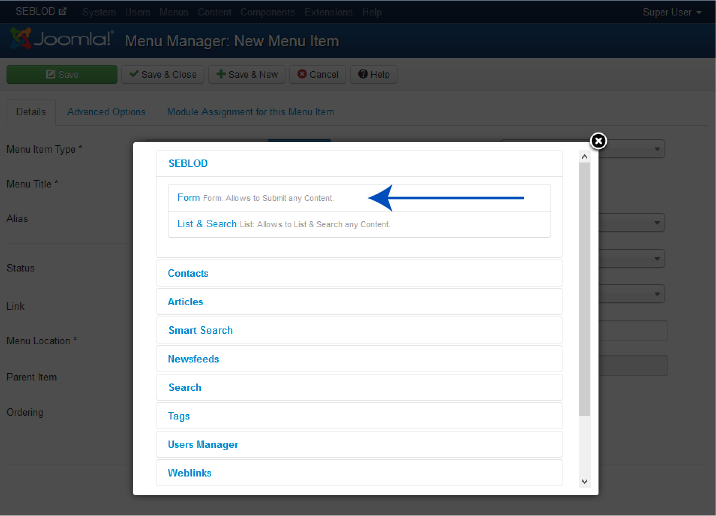 Choose the Content Type Article
In the select "Content Type (Form) *", choose the content Type "Article" :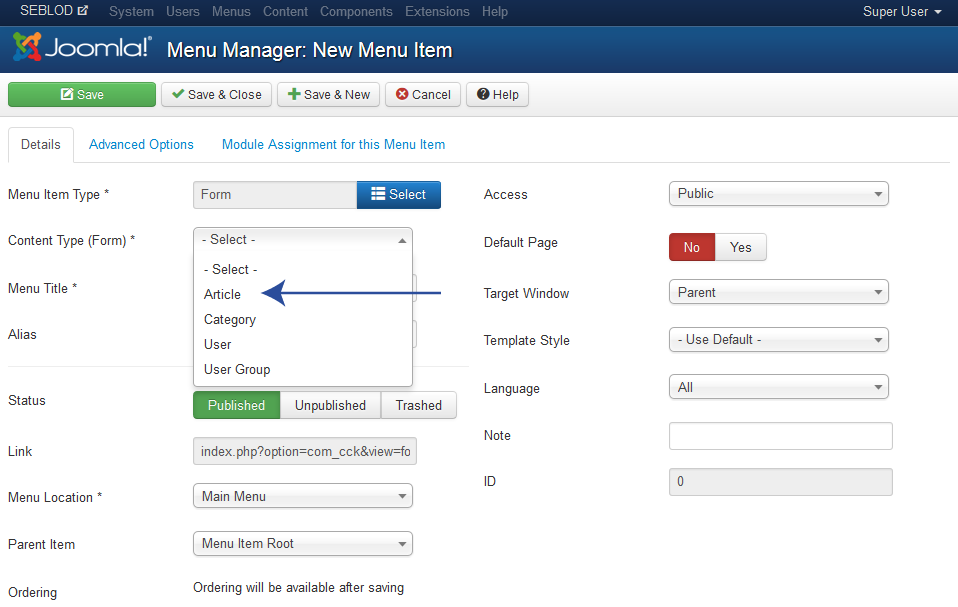 Display the form on the front side
Now, on front side, you can see your new menu item, and you can display the Article form :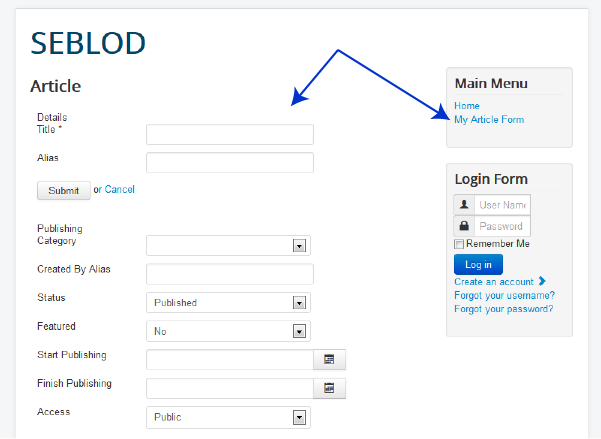 Sie wollen Ihren Nutzern ermöglichen Artikel über das Frontend Ihrer Webseite hinzuzufügen. In dieser Anleitung zeigen wir Ihnen, wie Sie einen Menüpunkt zu einem SEBLOD Artikeleingabeformular erstellen.
Artikel Seitenformular
In der Anleitung
Hinzufügen eines Joomla! Artikels
, haben wir Ihnen gezeigt wie man das SEBLOD Artikel-Formular im Joomla! Backend nutzt. SEBLOD verfügt auch über eine Ansicht "Seite Formular" welche es Ihnen ermöglicht Ihre Inhalte direkt über das Frontend der Webseite hinzuzufügen.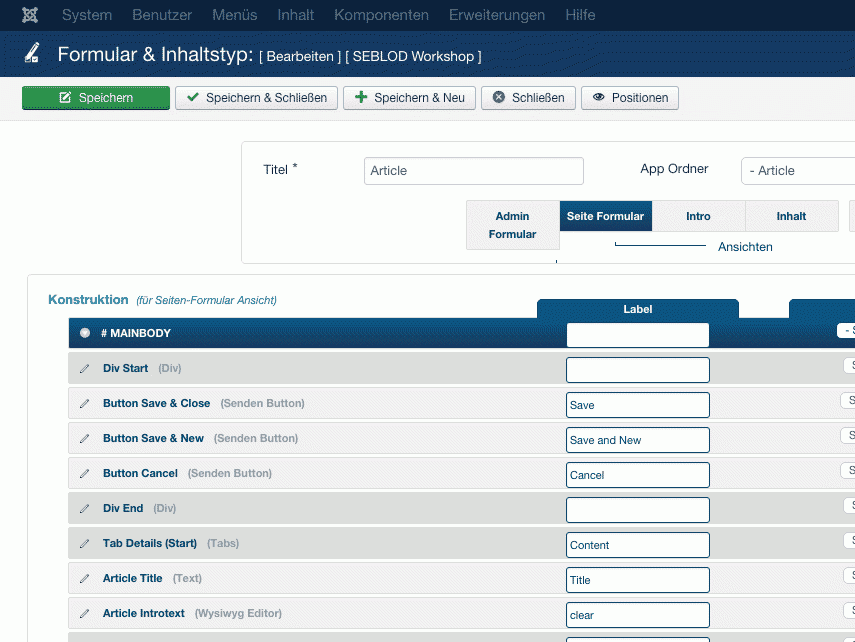 Artikel Seitenformular Zugriffsrechte
WICHTIG: Das allererste was Sie tun müssen, bevor Sie Ihre Eingabemaske veröffentlichen ist es die Zugriffsrechte einzustellen.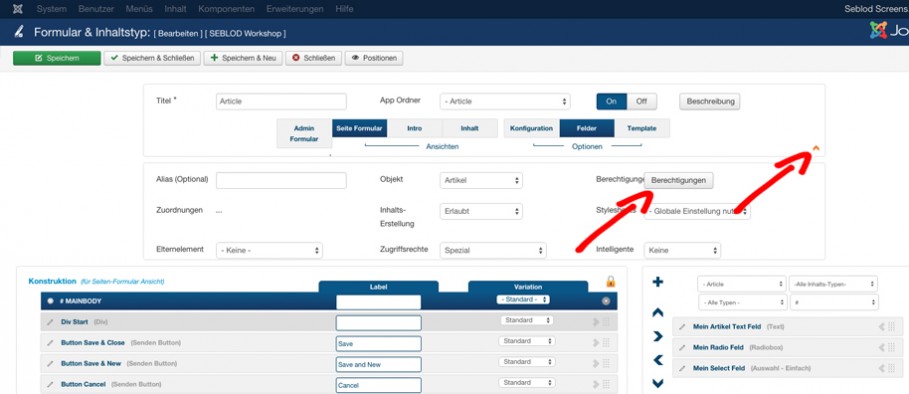 Ermitteln Sie die Zugriffsrechte für jede gewünschte Benutzergruppe.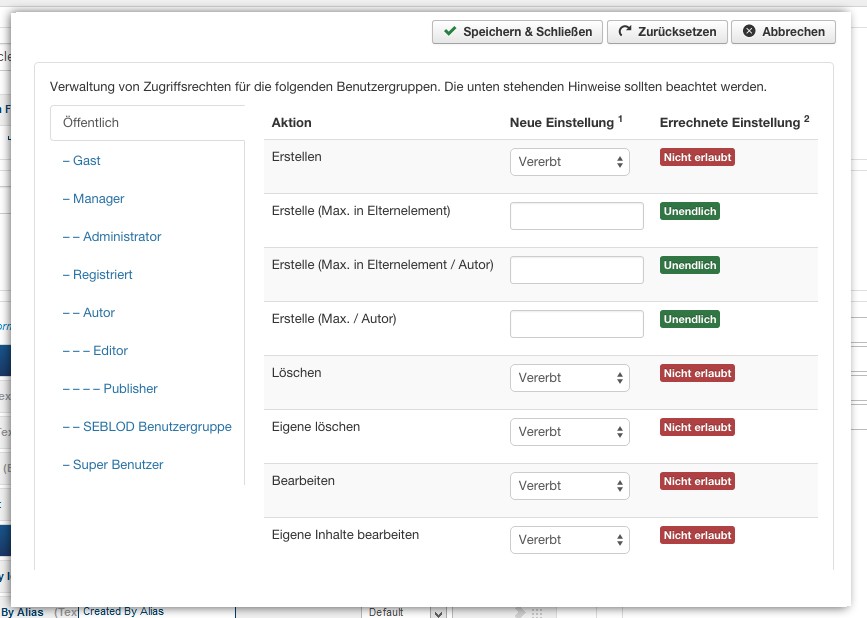 Wenn Sie möchten, dass alle Webseitenbesucher Inhalte einreichen können, müssen Sie bei der Gruppe "Öffentlich" die "Erstellung" auf "Erlaubt" setzen.
Menüpunkt hinzufügen
Erstellen Sie in der Joomla! Menu Verwaltung einen neuen Menüpunkt
"SEBLOD / Formular"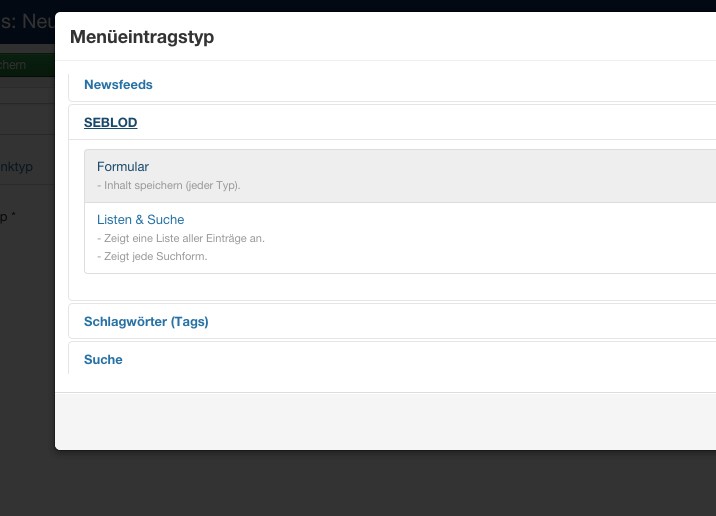 Wählen Sie den Inhaltstypen "Article"
Im Dropdown Auswahlfeld "Inhaltstyp (Formular) *", wählen Sie den Content Typen "Article"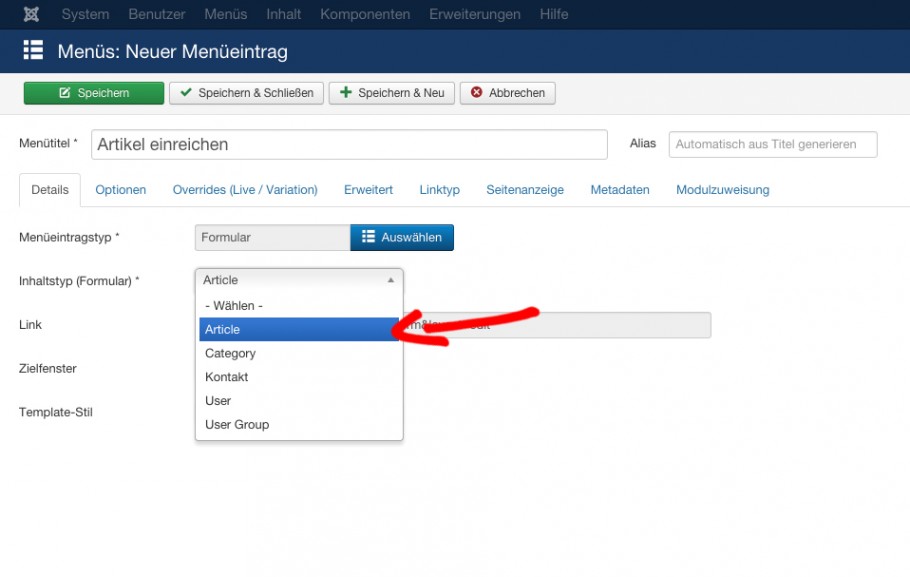 Zeigen Sie das Formular im Frontend an
Nun können Sie den Menüpunkt im Frontend sehen und das Artikelformular damit anzeigen: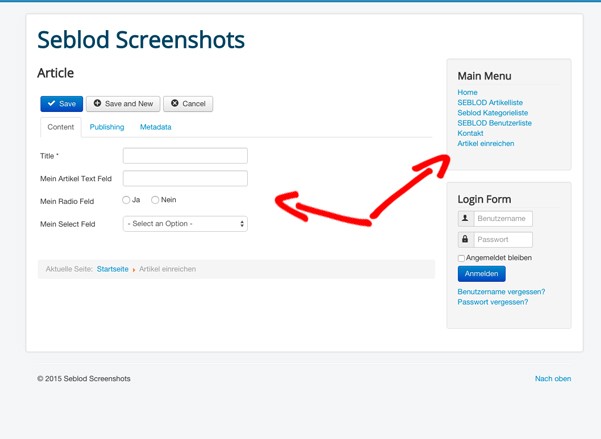 Vous voulez rendre vos utilisateurs libres d'ajouter des articles du côté site. Dans cette présentation, nous allons créer notre premier lien de menu Joomla! vers un formulaire d'article avec SEBLOD.
Vue "formulaire site" d'un article
Dans la présentation
Adding a Joomla! Article
, nous avons vu comment utiliser un formulaire d'article SEBLOD du côté administration ("back-end"). SEBLOD a également une vue "Site form" qui vous permet de soumettre du contenu du côté site ("front-end")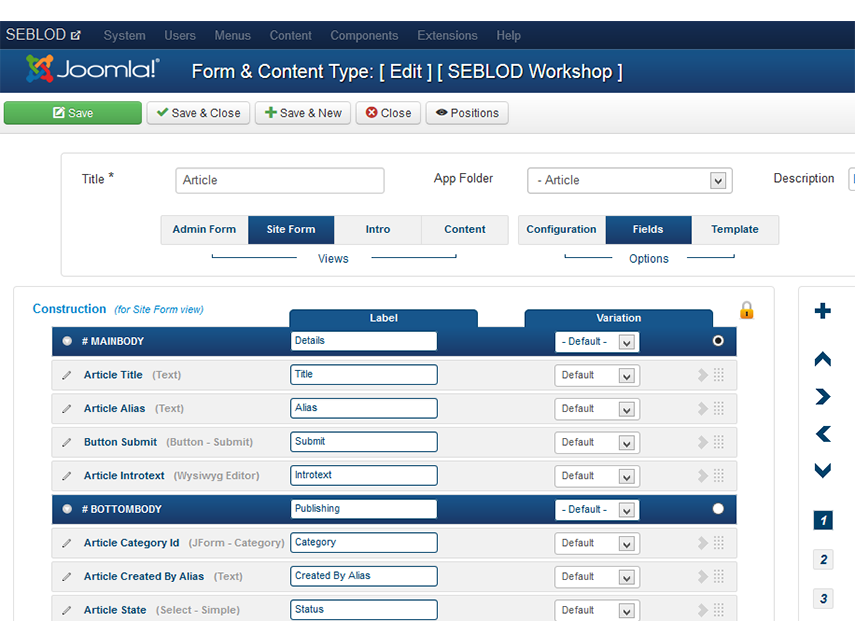 Les droits de la vue "formulaire site" d'un article
IMPORTANT: La première action à faire avant de publier le formulaire est de définir des droits.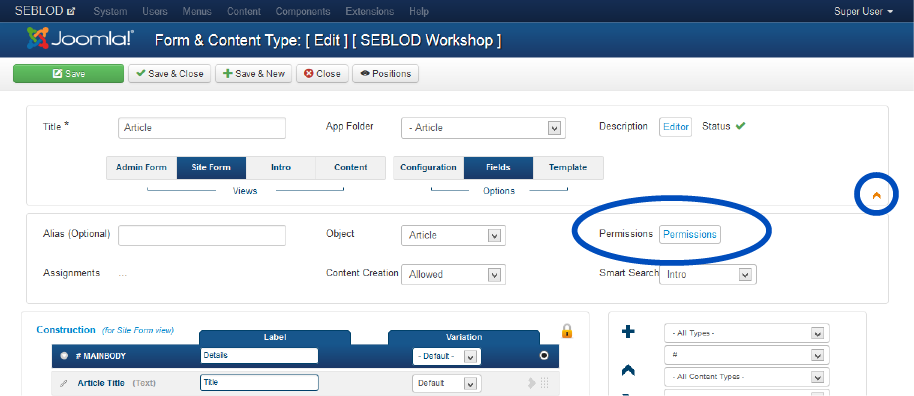 Déterminez les droits de chaque groupe d'utilisateurs.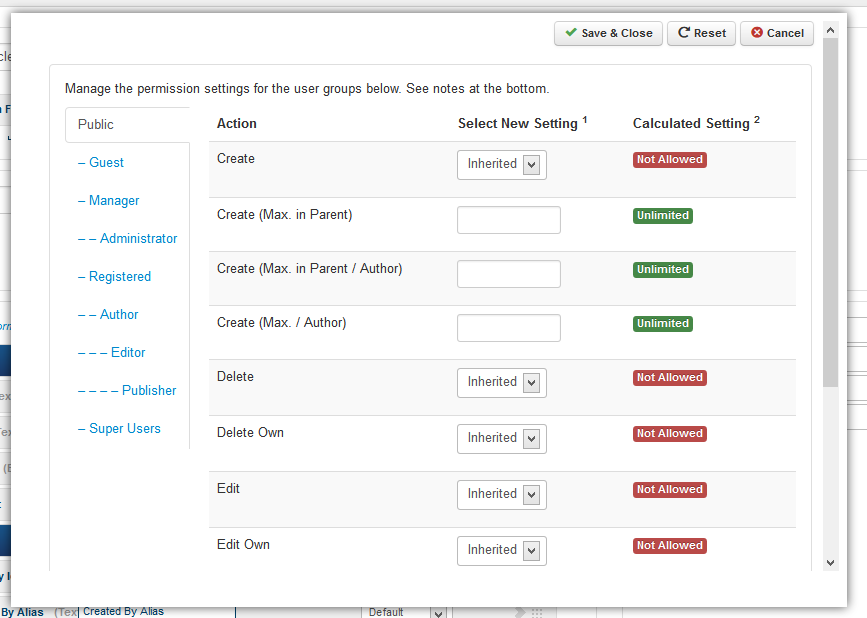 Si vous voulez que tous les visiteurs soient en mesure de soumettre du contenu, vous devez choisir l'option "allowed" du groupe d'utilisateurs "Public" pour l'action "Create".
Ajouter un lien de menu
Dans le gestionnaire de menu Joomla!, vous devez ajouter un lien de type
SEBLOD / Form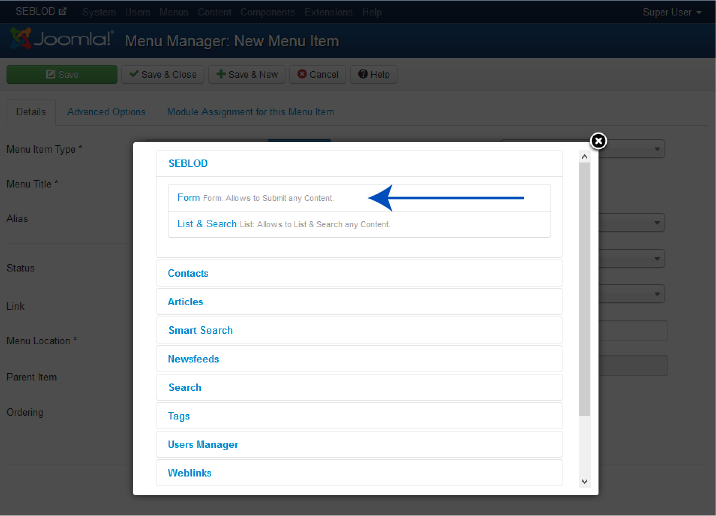 Choisir le type de contenu Article
Dans la sélection "Content Type (Form) *", choisissez l'option "Article" :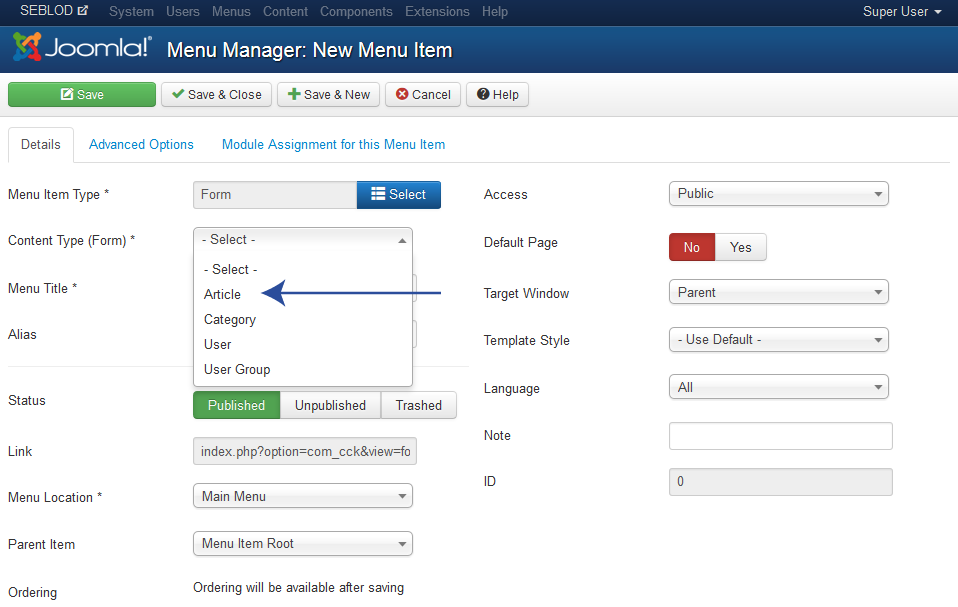 Afficher le formulaire du côté site
Maintenant, du côté site, vous pouvez voir votre nouveau lien de menu, et vous pouvez afficher votre formulaire d'article en cliquant dessus :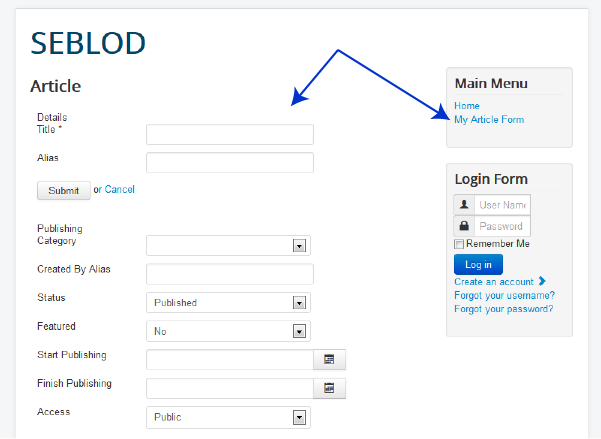 Les formulaires du côté administration et du côté site utilisent exactement les champs d'un article Joomla!. La présentation "Adding three custom fields to a Joomla Article" va vous apprendre comment personnaliser vos formulaires.