In this manual we will look at how to set up an SEBLOD Quick Icons module. An example of the Quick Icons module can be seen on the Joomla Control Panel, which is published by default when you install SEBLOD (seen below). The module displays a list of links to the various SEBLOD managers (Form & Content Type, List & Search Type, Fields, Templates).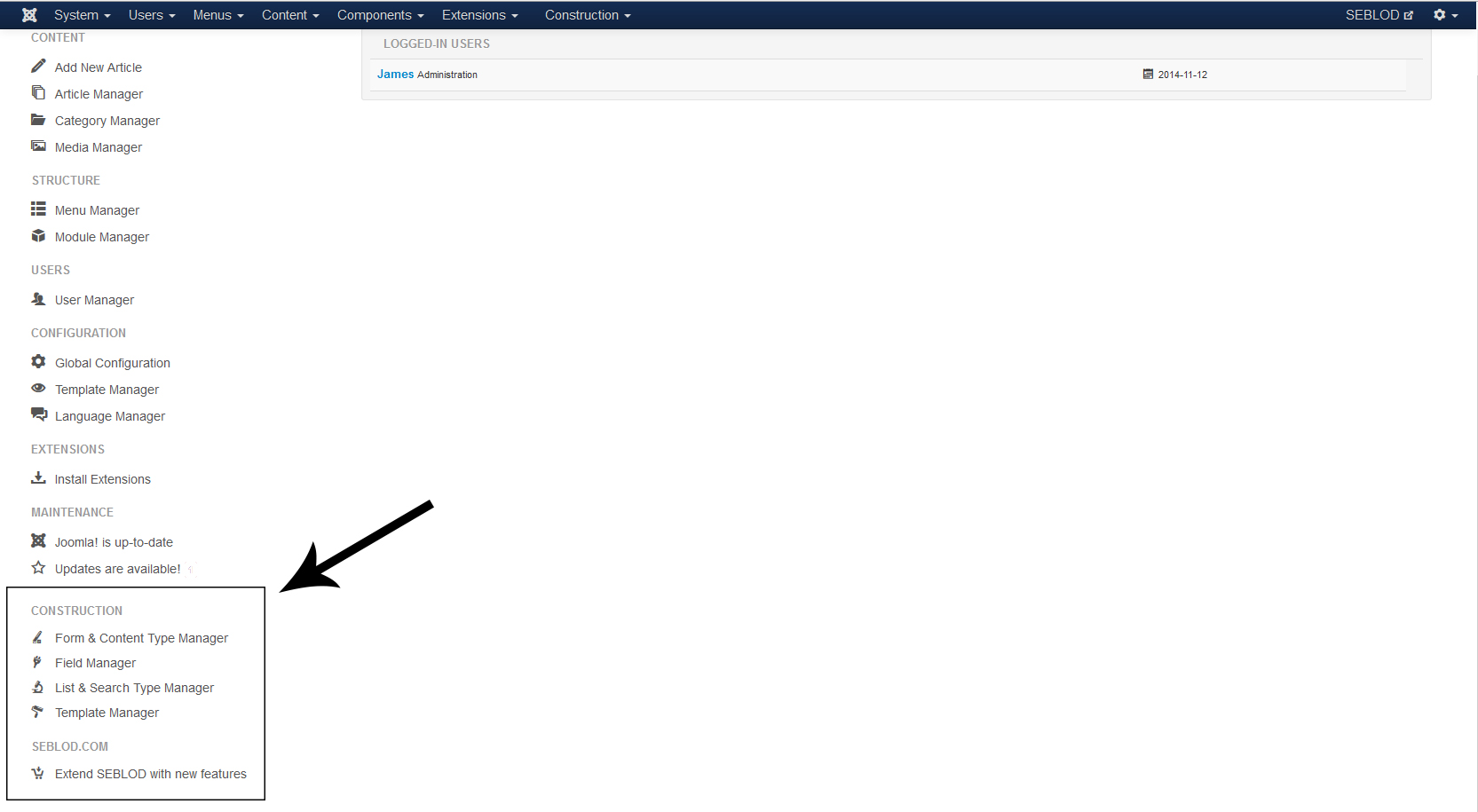 Create a new admin module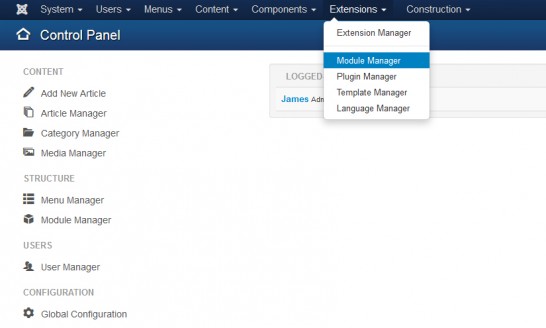 1) First, navigate to the Extensions > Module Manager.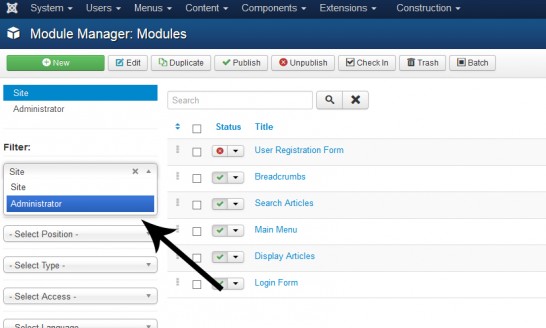 2) Then select the "Administrator" filter, and click "+ New".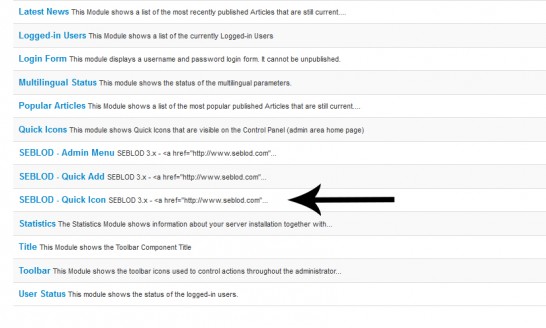 3) You then have 3 SEBLOD module options, select "SEBLOD - Quick Icons"
Once the module options have loaded, the process to publish the module is the same as any other Joomla module. Simply add a title, select a module position and click "Save and Close".
In dieser Anleitung sehen wir uns die Einrichtung des SEBLOD Quick Icons Modules an. Ein Beispiel des Quick Icon Modules können Sie im Joomla Kontrollzentrum sehen - dies wurde bei der SEBLOD Installation mitinstalliert. Das Modul ueigt eine Linkliste zu den verschiedenen SEBLOD Verwaltungen (Formular und Inhaltstypen, Listen und Suchtypen, Felder und Templates) an.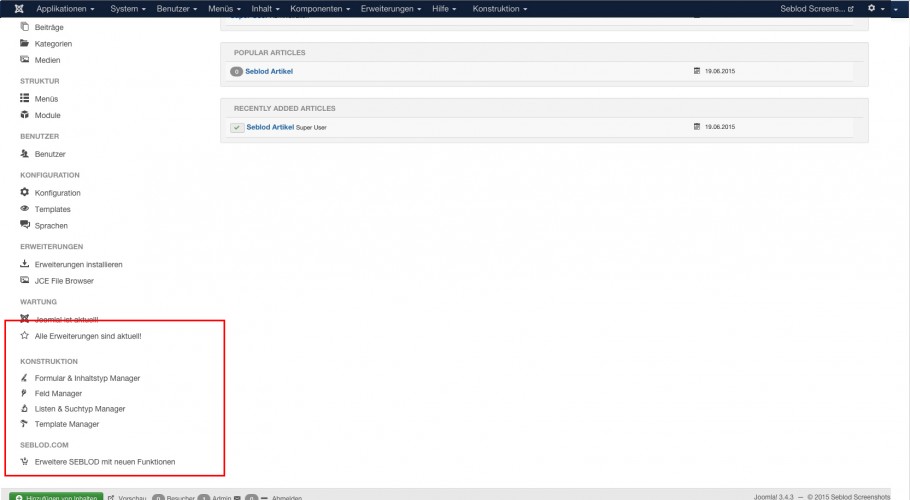 Erstellung eines neuen Admin Moduls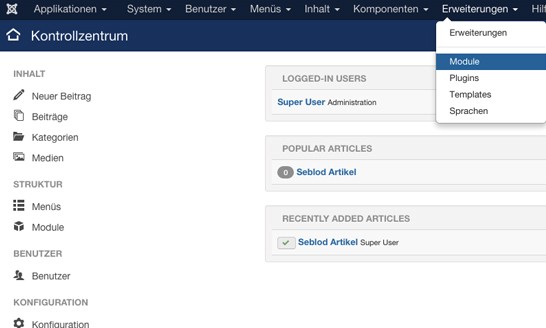 1) Gehen Sie zunächst auf Erweiterungen > Module.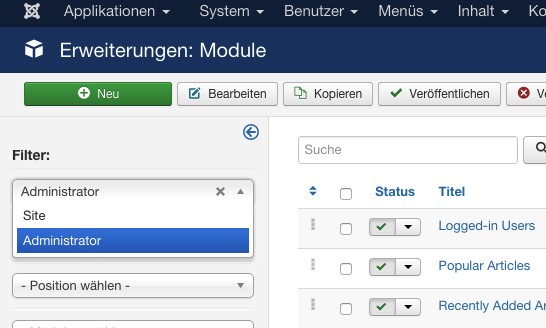 2) Wählen Sie dann im Filter "Administrator" und klicken Sie auf den grünen "+ Neu" Button.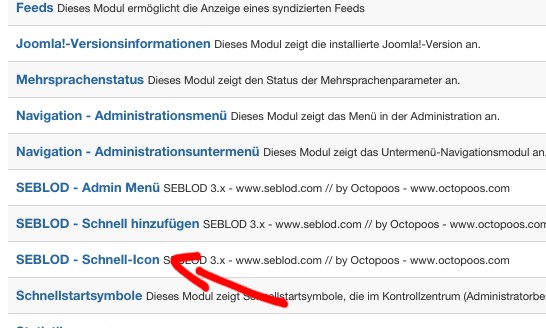 3) Sie sehen 3 SEBLOD Modulvarianten - wählen Sie: "SEBLOD - QuickIcons"
Nachdem Sie das Modul eingeblendet wird, können Sie das Modul wie jedes andere Joomla Modul veröffentlichen. Fügen Sie einen Titel hinzu, wählen Sie eine Modulposition und klicken Sie auf "Speichern und Schließen.