Even though SEBLOD integrates with the Joomla Content Component, so all your content items are available in the Article Manager, it is often useful to separate the content items relating to each of your content types in to their own separate Content Manager. In this manual we'll look at how to create a back-end content manager for our contact form submissions.

Create a back end manager list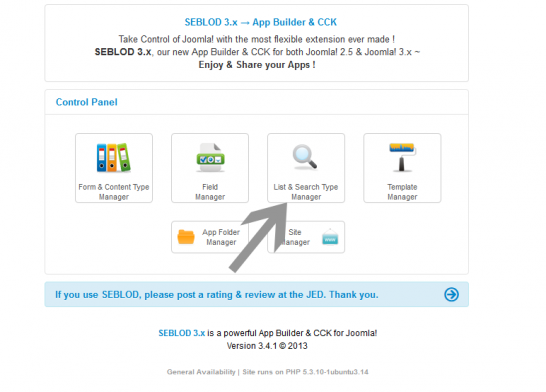 The first step is to create a new list that retrieves all of our contact form submissions and displays them in a table. To do this, go to the list and search type manager.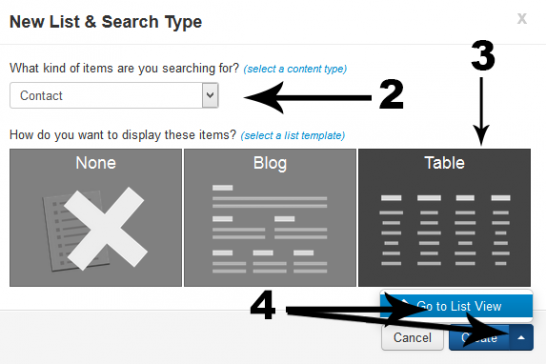 1. Click "+ New"
2. Select "Contact" as the type of items you are searching for
3. Select "Table" as the list template
4. Next to the 'create' button - click the up arrow and click "go to list view"
Assigning your fields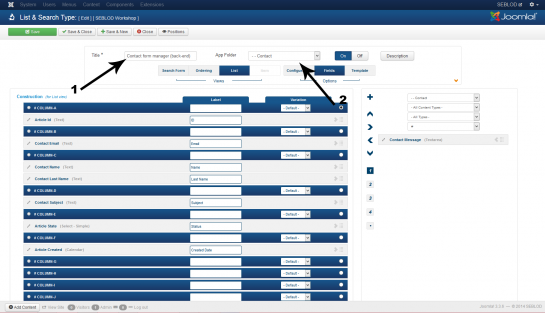 1. Name your field "Contact form manager (back-end)".
2. Assign your new list to your Contact application folder, so your list is stored along with the other contents of your application.
3. Assign your fields to your desired columns. You will want to add some core Joomla fields to this view, so you will need to change the fields folder to "All App Folders" to add these.
Formatting your fields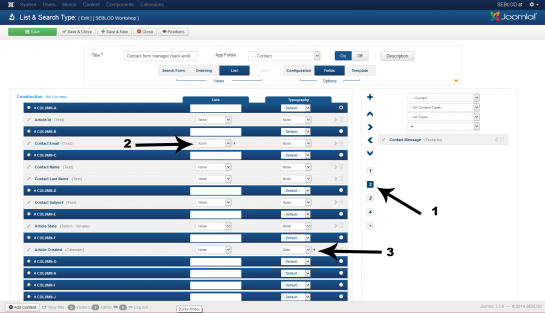 1. Click the "2" box on the right hand side
2. Add a link to your content to the title field.
3. You can also add some date formatting typography to the Article Created field. 4. Click "save and close"
4. If you have the jGrid plugin installed, you can select it as a typography option on your Article Published, Article Featured and CCK ID field to add some Joomla styling and checkbox functionality.
Adding a back-end link to your Manager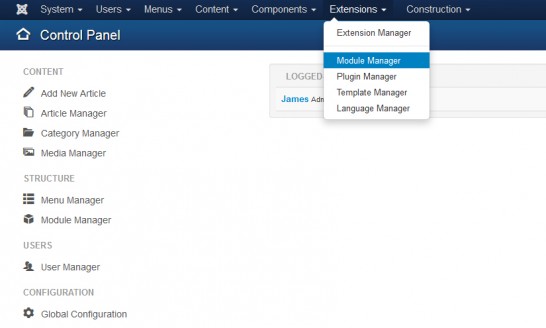 1. Navigate to the Joomla Module Manager (Extensions > Module Manager)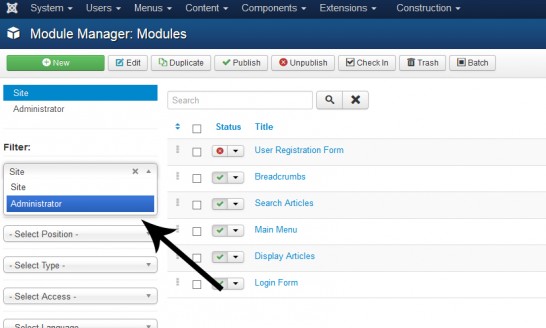 2. Toggle to view Administrator Module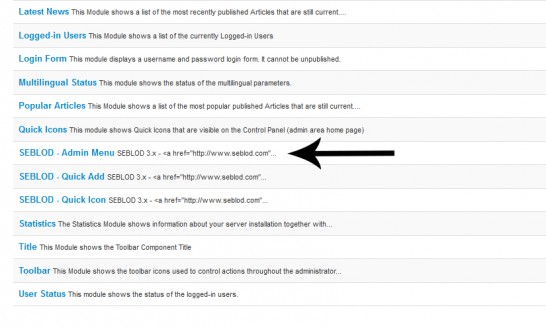 3. Click "new" and select SEBLOD - Admin Menu
4. For "mode" select "list"
5. In menu title, type "Applications"
6. Publish the module in the "menu" position. Click "Save and close"
And the results is...
You now have an administration menu link to your back-end contact form content manager!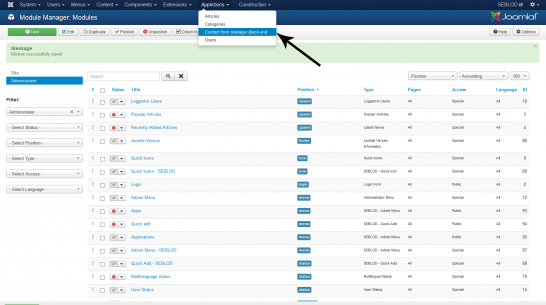 You're now ready to
export your application
Auch wenn SEBLOD nahtlos in die Joomla Inhalte Komponente integriert ist, so dass alle Inhalte über die Artikelverwaltung erreichbar sind, ist es nützlich die Artikel abhängig vom Inhaltstypen in einem eigenen Bereich anzuzeigen und zu verwalten. In dieser Anleitung sehen wir uns an wie wir eine Backend Verwaltung für unser Kontaktformular erstellen.
Erstellung einer Backend-Verwaltungsliste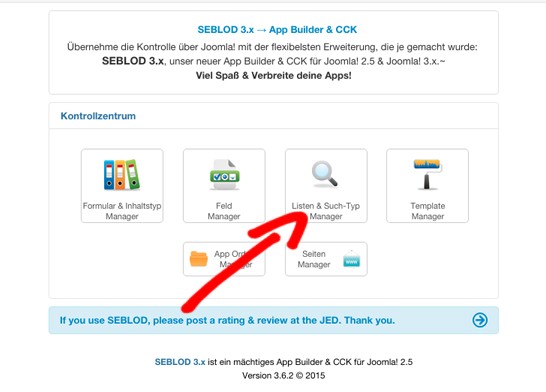 Im ersten Schritt erstellen wir eine neue Listenansicht, die alle Einreichungen aus dem Kontaktformular bezieht und diese in einer Tabelle anzeigt. Gehen Sie dazu in die Listen und Suchtypen Verwaltung.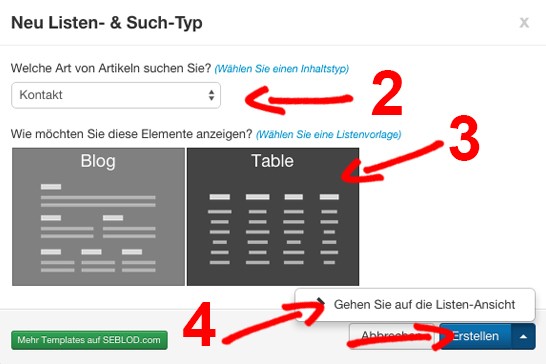 1. Klicken Sie auf "+Neu"
2. Wählen Sie "Kontakt" unter der Frage "Welche Art von Artikeln suchen Sie?"
3. Wählen Sie "Table" als Template
4. Neben dem 'Erstellen' Button - klicken Sie auf den aufwärts Pfeil und klicken Sie auf "Gehen Sie auf die Listen Ansicht"
Zuweisung Ihrer Felder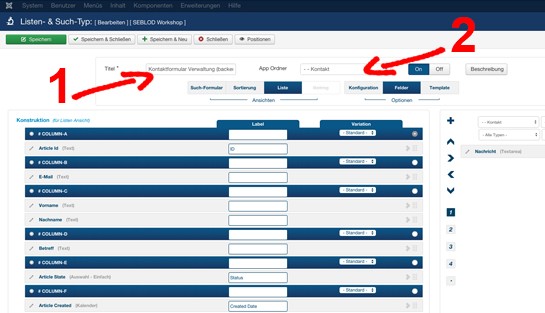 1. Vergeben Sie einen Namen "Kontaktformular Verwaltung (backend)"
2. Weisen Sie die neue Liste Ihrer "Kontakt" Applikation zu, so wird die Liste mit den anderen Bestandteilen Ihrer Applikation gespeichert.
3. Weisen Sie Ihre gewünschten Felder den verschiedenen Spalten zu. Möglicherweise wollen Sie noch Joomla eigene Felder wie zum Beispiel "Erstellungsdatum" hinzufügen, dazu müssen Sie rechts im Dropdown den Feldfilter zu "Alle App-Ordner" wechseln.
Formatierung der Felder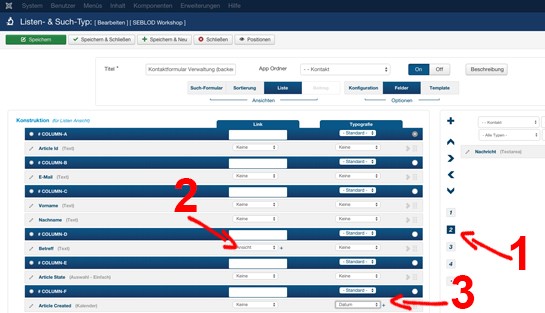 1. Klicken Sie auf die Box"2" auf der rechten Seite.
2. Fügen Sie einen Link zum Inhalt beim Titelfeld hinzu.
3. Sie können auch Datumsformatierungen hinzufügen.
4. Klicken Sie auf "Speichern und schließen"
4. Wenn Sie das jGrid plugin installiert haben, können Sie das dies als Typografie-Option zu den Feldern "Article Grp Publishing", "Article Featured" und "CCK Id" hinzufügen um Joomla Styling und Checkbox-Funktionen hinzuzufügen.
Hinzufügen eines Links zur Backend-Verwaltung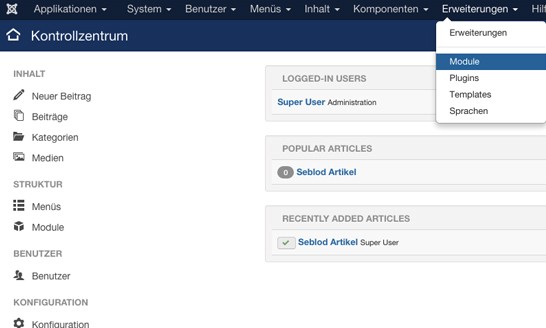 1. Gehen Sie zur Joomla Modul Verwaltung (Erweiterungen > Module)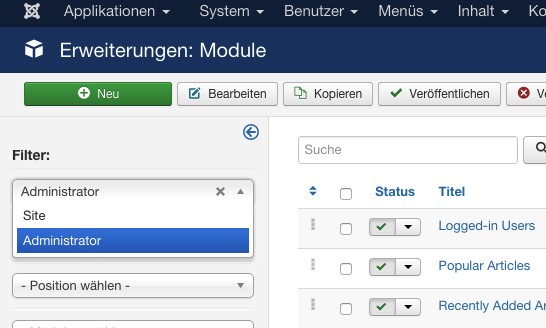 2. Wechseln Sie in den Bereich "Administrator"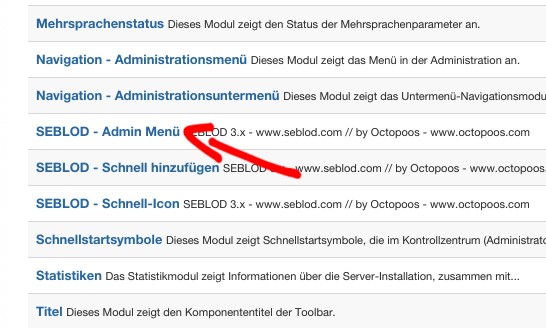 3. Klicken Sie auf "Neu" und wählen Sie das "SEBLOD Admin Menu"
4. Im Bereich "Modus" wählen Sie "Listen"
5. Im Bereich Menütitel tragen Sie "Applikationen" ein.
6. Veröffentlichen Sie das Modul auf der Position "menu" und klicken Sie auf "Speichern und schließen"
Das Ergebnis ist folgendes...
Sie haben nun ein eigenes Administrationsmenü für Ihre Back-End Kontaktformular Verwaltung.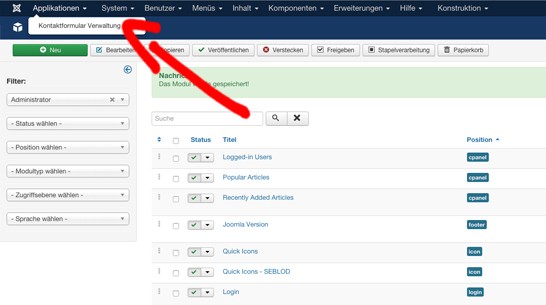 Sie können nun Ihre App exportieren
Même si SEBLOD s'intègre avec "Joomla Content Component", de sorte que tous vos liens de contenu sont disponibles dans le gestionnaire d'articles, il est souvent utile de séparer les liens de contenu relatifs à chacun de vos types de contenu dans leur propre gestionnaire de contenu. Dans ce manuel, nous allons voir comment créer un gestionnaire de contenu du côté administration (back-end) pour nos soumissions de formulaire de contact.
Créer un gestionnaire de liste en back-end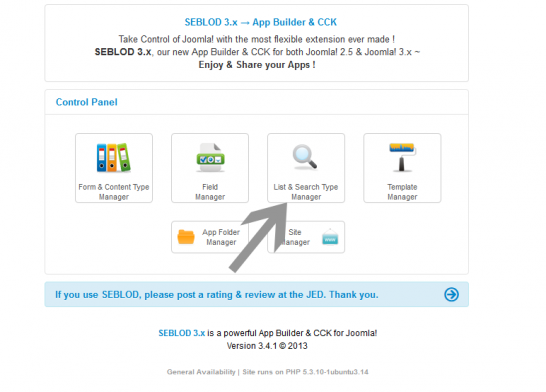 La première étape consiste à créer une nouvelle liste qui récupère tous nos formulaires de soumissions de contacts et les affiche dans un tableau. Pour ce faire, accédez au gestionnaire de liste et de type de recherche.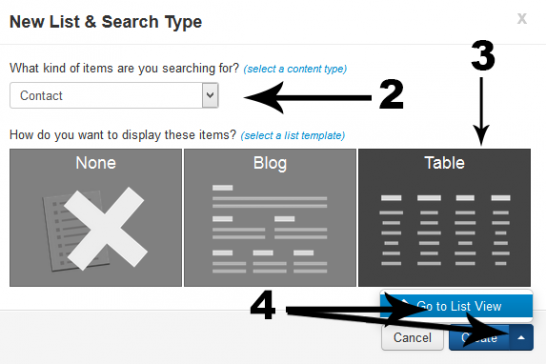 1. Cliquez sur "+ New"
2. Sélectionnez "Contact" comme type d'articles que vous recherchez
3. Sélectionnez "Table" comme modèle de liste
4. À côté du bouton "Create" - cliquez sur la flèche du haut et cliquez sur "go to list view"
Affecter vos champs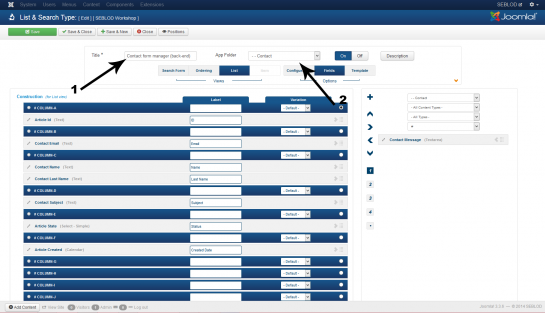 1. Nommez votre champ "Gestionnaire de formulaire de contact (back-end)".
2. Affectez votre nouvelle liste dans votre dossier d'application de contact, de sorte que votre liste soit stockée avec les autres contenus de votre application.
3. Attribuez vos champs à vos colonnes souhaitées. Vous voudrez ajouter certains champs de base de Joomla à ce point de vue, ainsi vous aurez besoin de changer le dossier de champs en "All App Folders" pour les ajouter.
Formater vos champs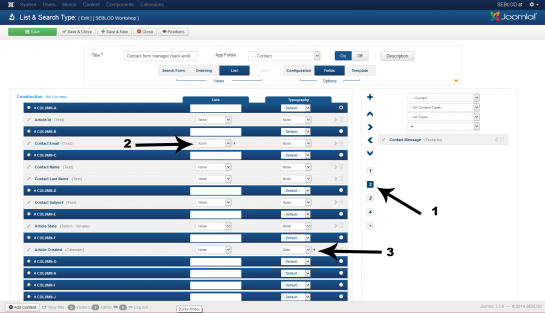 1. Cliquez sur la case "2" sur le côté droit
2. Ajouter un lien de votre contenu au titre du champ.
3. Vous pouvez également ajouter quelques typographies de mise en forme de la date dans le champ d'article créé.
4. Cliquez sur "save and close"
5. Si vous avez installé le plugin jGrid, vous pouvez le sélectionner comme option de typographie sur vos "Article Published", "Article Featured" et champ "CCK ID" pour ajouter certaines fonctionnalités de style et de case à cocher de Joomla!.
Ajouter un lien back-end à votre gestionnaire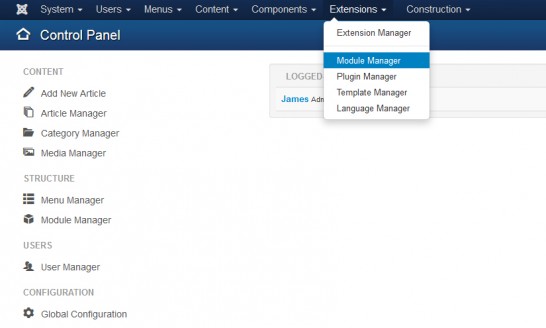 1.Accédez au gestionnaire de modules Joomla (Extensions> Module Manager)
2.Basculez pour voir du côté administration (back-end)
3.Cliquez sur "New" et sélectionnez "SEBLOD - Admin Menu"
4. Sélectionnez "liste" dans "mode"
5. Dans le titre de menu, choisissez le type "Applications"
6. Publiez le module dans la position "menu". Cliquez sur "Save and close"
Et le résultat est …
Vous avez désormais un lien de menu administration pour votre gestionnaire de contenu de formulaire de contact en back-end.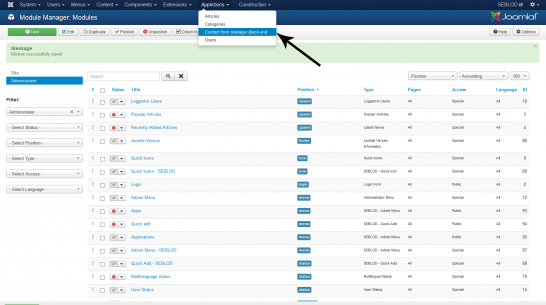 Vous êtes maintenant prêt pour exporter votre application