SEBLOD allows you to export your applications to re-use on any Joomla! - SEBLOD website. In this manual we'll see how to export an application.
Application Manager
The application folder we set up contains our contact form, our back-end list and our fields. The application manager shows us how many of each type of element we have in our app folder.: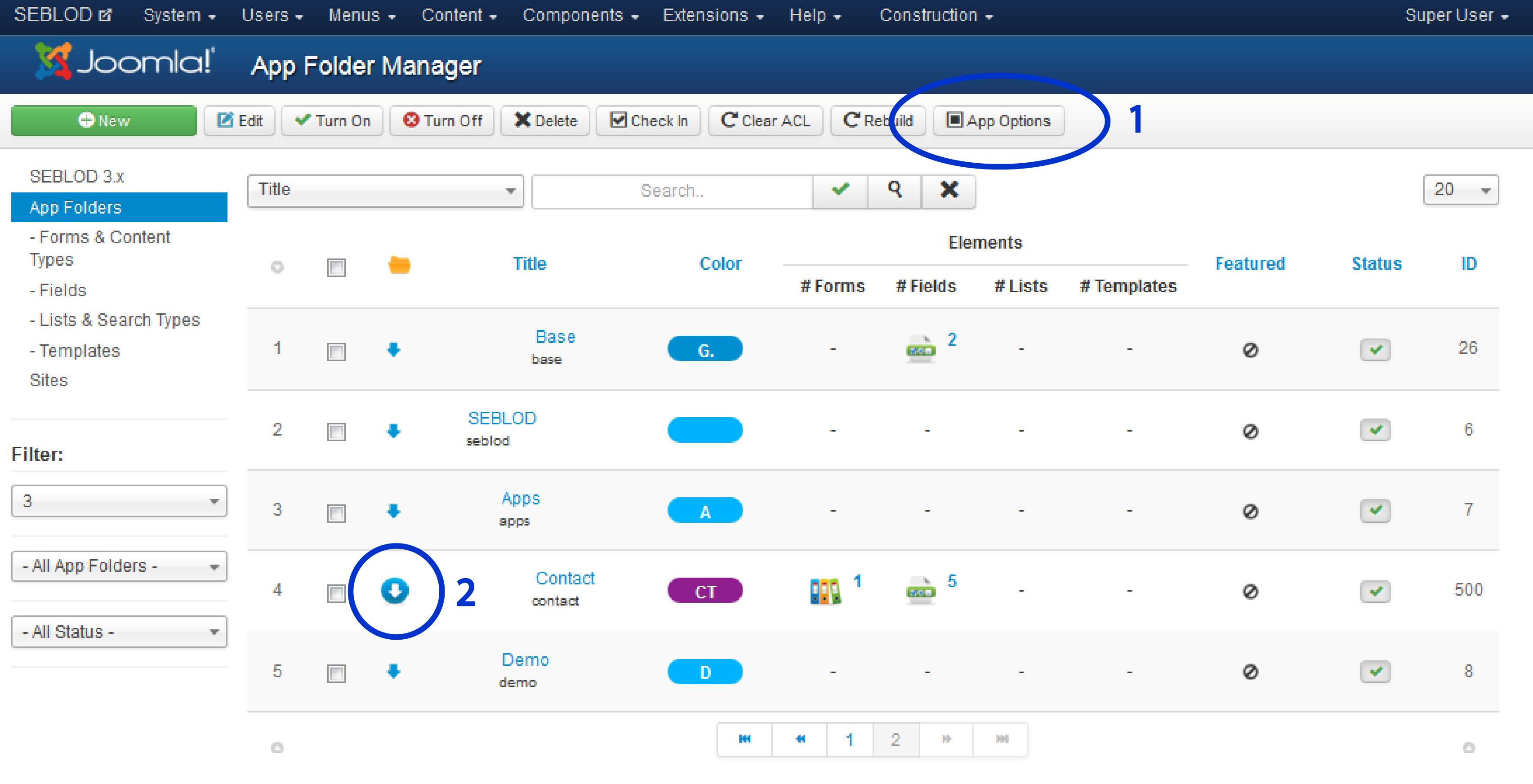 1 - Define Process parameters
2 - Export the App
Process parameters
Before exporting the application, you could choose what you really want to export by clicking on "App Options" (1). It will open a modal box:
The Elements tab allows you to select which SEBLOD elements will be included in your package file.
The Dependencies tab lets you select whether you want the categories used in your SEBLOD forms to be included in the package file, and also to select a menu that will be included in the package file. Both the categories and menu will be created on any new site that you install your app on.
The Filename tab gives you options to add the date and the version number to the end of your application file name. These options are inherited from the SEBLOD global configuration options.
And the result is...
It stay to export the app by clicking on the link :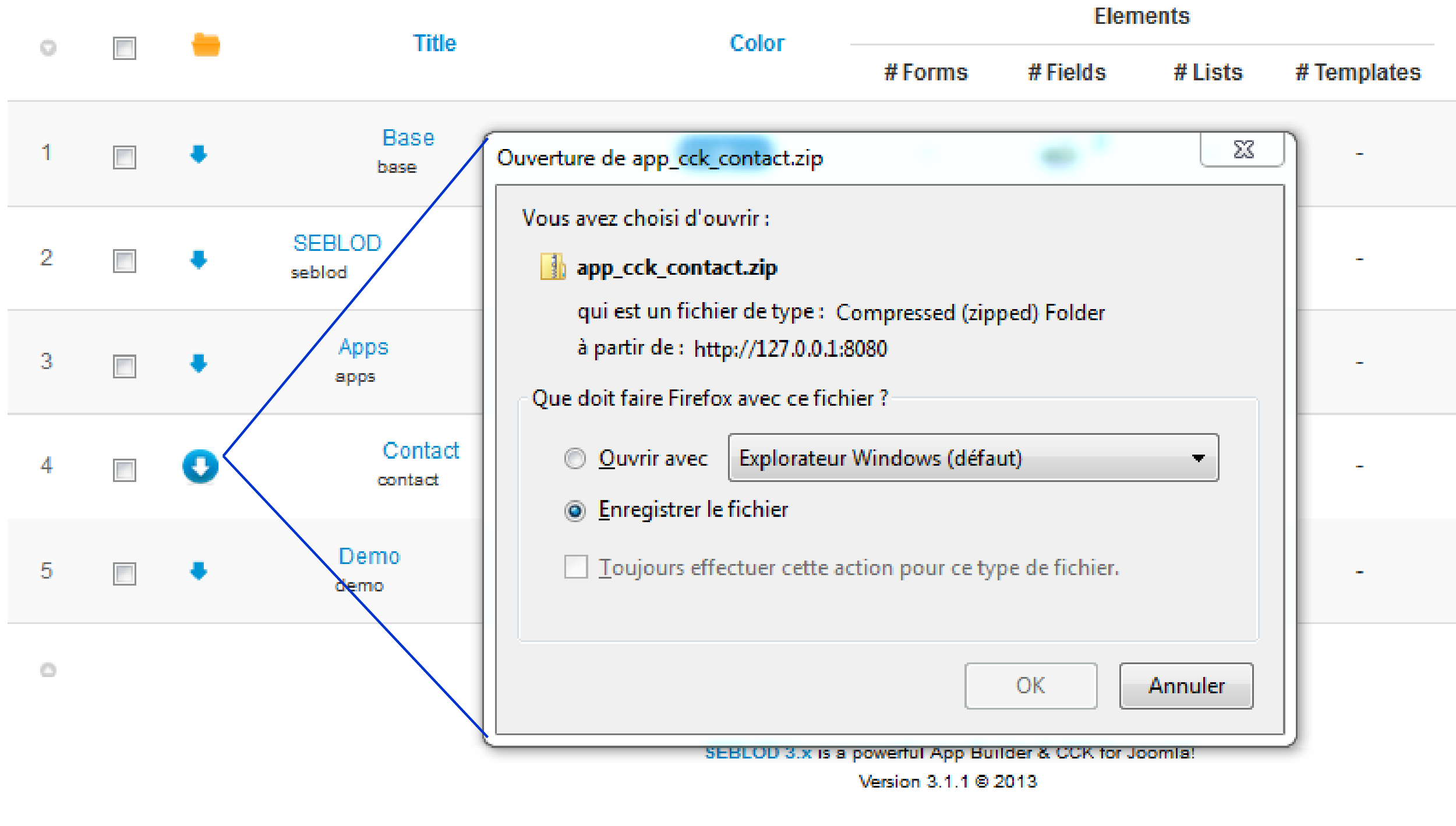 You're now ready to
install your App
in a new website
Mit SEBLOD ist es möglich Ihre Applikationen zu exportieren und auf einer beliebigen anderen Joomla! - SEBLOD Seite wiederzuverwenden. In dieser Beschreibung zeigen wir, wie man eine Applikation exportiert.
App-Verwaltung
Der Applikations-Ordner, den wir angelegt haben enthält unser Kontaktformular, unsere Backend Verwaltung und unsere Felder. Die Applikationsverwaltung zeigt an, wieviel von jedem Element in unserem App-Ordner abgelegt wurde: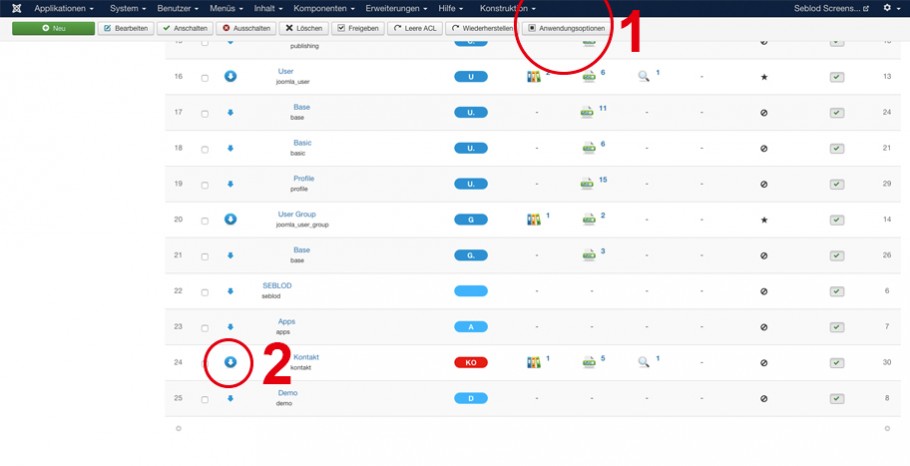 1 - Prozesseinstellungen definieren
2 - App exportieren
Prozess-Einstellungen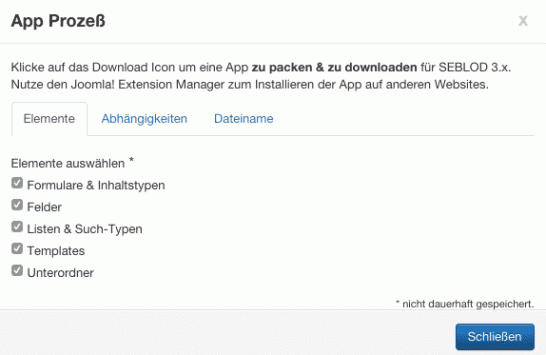 Bevor Sie die Applikation exportieren, können Sie unter "App Optionen" (1) überprüfen und auswählen was Sie wirklich exportieren wollen. Es öffnet sich ein Popup:
Im Element Tab können Sie auswählen, welche SEBLOD Elemente in dem Paket eingebunden werden.
Im Abhängigkeiten Tab können Sie auswählen, ob Sie die Kategorien und das Menü, welche Sie in Ihrem SEBLOD Formular verwenden mit im Paket eingebunden werden. Die Kategorien und das Menü werden dann auf jeder neuen Seite erstellt, auf der Sie diese App installieren.
Im Dateinamen Tab können Sie ein Datum und eine Versionsnummer in den Dateinamen einfügen. Diese Optionen sind von der Globalen Komponenten Konfiguration vererbt.
Das Ergebnis ist folgendes...
Klicken Sie auf den Pfeil um die App zu exportieren: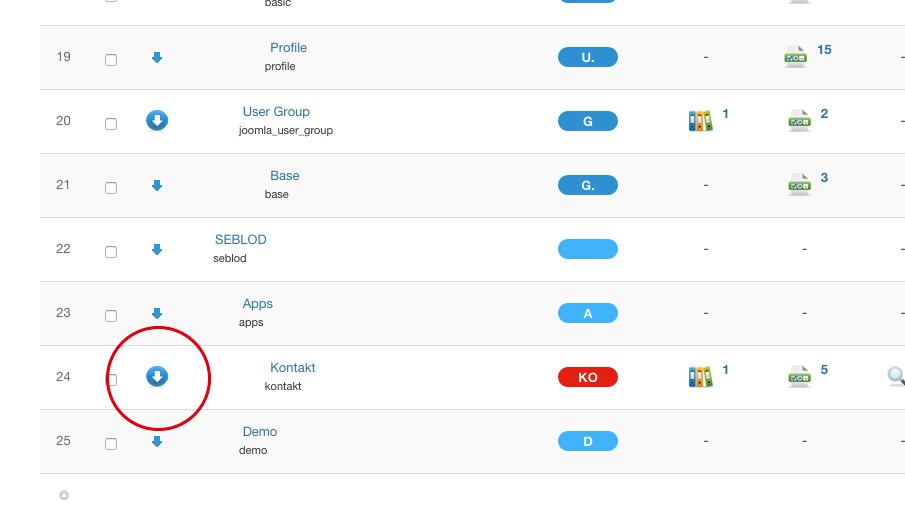 Sie können nun Ihre App installieren.
SEBLOD vous permet d'exporter vos applications pour les réutiliser sur n'importe quel site Joomla! - SEBLOD. Dans ce manuel, nous verrons comment exporter une application.
Gestionnaire d'application
Le dossier d'applications que nous avons créé contient notre formulaire de contact, notre liste back-end et nos champs. Le gestionnaire d'applications nous montre combien d'élément de chaque type nous avons dans notre dossier App :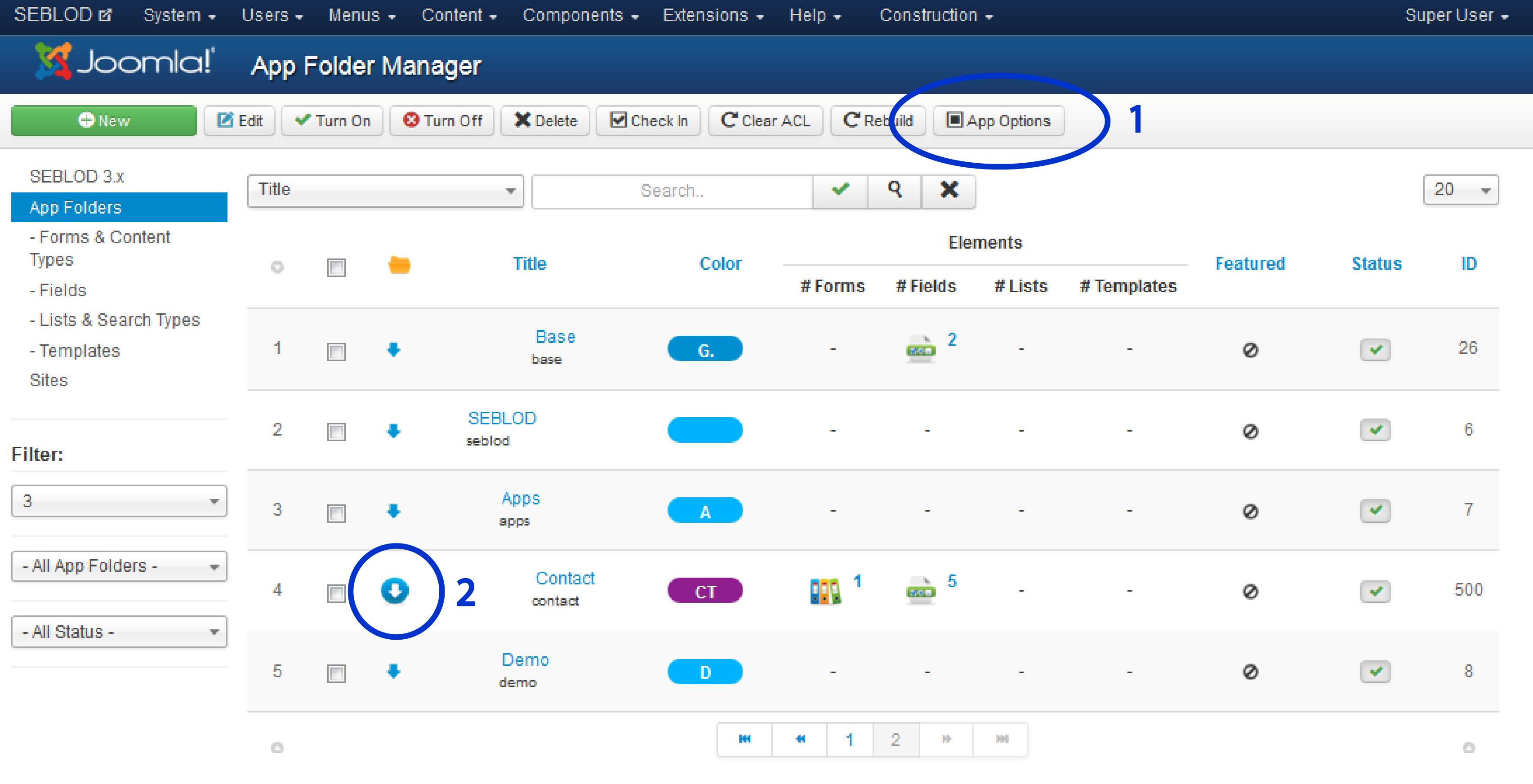 1 - Définissez les paramètres de process
2 - Exportez l'application
Paramètres de process
Avant d'exporter l'application, vous pouvez choisir ce que vous voulez vraiment exporter en cliquant sur "App Options" (1). Il ouvrira une Modal Box:
L'onglet "Elements" vous permet de sélectionner quels éléments SEBLOD seront inclus dans votre fichier de package.
L'onglet "Dependencies" vous permet de choisir si vous voulez que les catégories utilisées dans vos formulaires SEBLOD soient inclues dans le fichier de package, et également de sélectionner un menu qui sera inclus dans le fichier de package. Les catégories et le menu seront créés sur n'importe quel nouveau site où vous aurez installé votre application.
L'onglet "Filename" vous donne des options pour ajouter la date et le numéro de version à la fin du nom de votre fichier d'application. Ces options sont héritées des options de configuration globale SEBLOD.
Et le résultat est …
Il reste à exporter l'application en cliquant sur le lien :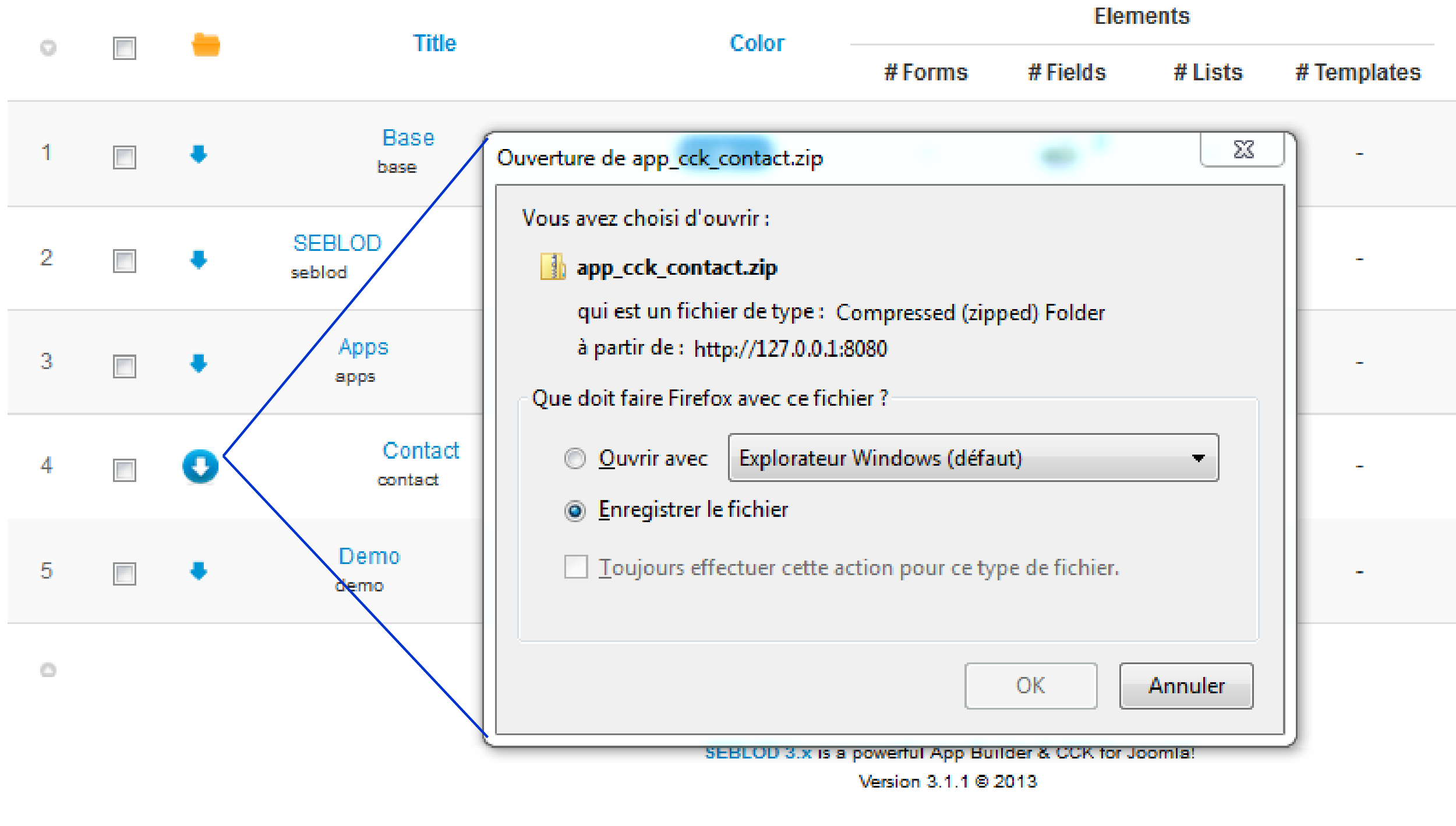 Vous êtes maintenant prêt pour installer votre application sur un nouveau site.