Now, you've
exported your app
and you want to re-use it on a new website which runs Joomla! and SEBLOD. This manual shows you how to install an app on a new SEBLOD and Joomla site.
Extension Manager
SEBLOD apps are installed the same way as any other Joomla extension - through the Joomla! Extension Manager. Simply select "upload a package file", select your app .zip file, and click "Upload & Install"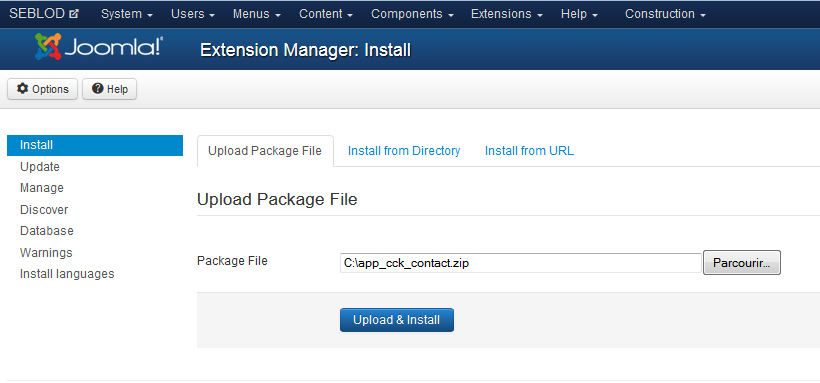 Now all of the elements of your application that you
exported in the previous manual
are available in your new site!
Nun wissen Sie, wie Sie eine App exportieren. Nachfolgend zeigen wir Ihnen, wie Sie diese auf einer anderen Joomla!-Webseite auf der SEBLOD installiert ist, wiederverwenden können.
Erweiterungen
SEBLOD Apps werden genauso wie jede andere Joomla! Erweiterung unter "Erweiterungen" > "Erweiterungen" installiert. Wählen Sie einfach "Datei auswählen" im "Paketdatei hochladen" Tab. Wählen Sie die .zip-Datei von Ihrer App und klicken Sie anschließend auf "Hochladen & Installieren"
Nun sind alle Elemente der Applikation, die Sie in der vorherigen Anleitung exportiert haben auf Ihrer neuen Seite verfügbar!
Maintenant que vous avez exporté votre application, vous voulez la réutiliser sur un nouveau site qui fonctionne sous Joomla! et SEBLOD. Ce manuel vous montre comment installer une application sur un nouveau site Joomla! et SEBLOD.
Gestionnaire d'extension
Les applications SEBLOD s'installent de la même façon que n'importe quelle extension Joomla! via le gestionnaire d'extensions Joomla!. Il suffit de sélectionner "upload a package file", de séléctionner votre fichier d'application .zip, et de cliquer sur "Upload & Install"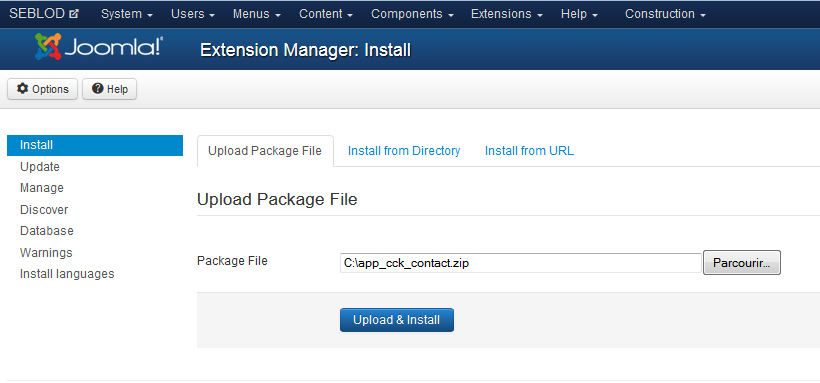 Maintenant, tous les éléments de votre application que vous avez exportée dans le manuel précédent sont disponibles sur votre nouveau site.